Every good violin player eventually needs a better instrument as their skills improve. When looking for an upgrade, which brand offers the best violin for advanced students?
Top Violins and Brands for Advanced Players at a Glance:
| | | | |
| --- | --- | --- | --- |
| Product | Feature Image | Rating | Relative Price |
| #1 Top Pick | | 4.9 | $$$ |
| #2 Best Budget Model | | 4.5 | $$ |
| #3 Best Build Quality | | 5.0 | $$$$$ |
| #4 Solid Reputation | | 4.3 | $$$ |
| #5 Brilliant Tone | | 5.0 | $$$$ |
We certainly hope you benefit from the information we provide in this article! Just so you know, we may receive compensation if you use the links on this page. If you do, thank you so much!

Violins are some of the most versatile musical instruments in the world. They feature in almost every genre of music. One of the things that draw people to it is the unique and delicate way it is held and played with a bow.
It also produces a rich sound full of character and emotion. Despite requiring a lot of practice to master and perform, it is a fun instrument to play whether solo or in a band/ensemble.
We have all been in that situation where we are overwhelmed when trying to get the best violin brands for advanced users. There are so many good quality violin makes and models to choose from and different player levels that can both frustrate and intimidate you.
If you are looking for a new violin or upgrading your old one, you are in luck as we review some of the best violins for advanced users. We'll look at budget-friendly professional violin brands as well as premium high-quality options.
Our 5 Best Violin Brands for Advanced Students Reviewed


Fiddlerman Master Violin Outfit
The Fiddlerman Master Violin Outfit is a beautiful choice for advanced students. It has a beautiful brown finish with a lovely sound and a robust and durable frame.
Overview
Kaplan Amo and Thomastik Vision strings
Premium bridge
Wood dried for at least 10 years
Perfect measurements and sizing
Aubert Mirecourt Deluxe or French Despiau bridge

Fiddlerman Master Violin Outfit highlights
The Fiddlerman Master Outfit from Fiddlerman Violins is considered a favorite among intermediate and advanced violinists. Many people love it because it has a beautiful finish as well as producing a rich and deep sound.
The quality of craftsmanship is top-notch, made clear in the feel and sound of the violin. Made from tightly grained tonewoods; spruce and maple back.
This outfit comes with either Kaplan Amo or Thomastik Vision strings (depending on size) and a high-end Fiddlerman Oblong Case. A carbon fiber bow with Mongolian horse hair for better tone and longevity, plus Holstein violin rosin.
The Master violin also comes with high-grade carbon fiber tailpiece, a significant upgrade from a much more common Brazilwood tailpiece.
Memorable Quality
This violin is relatively easy-to-tune, and it has a great sound. We loved the overall look and finish. It has a classic brown finish, is built using solid materials, and will serve you for a very long time. It also comes complete with a lifetime structural warranty.
Requires Respect
Though it is exceptionally built, the instrument must be treated with respect when it comes to tuning and playing. Like any thoroughbred violin, it may not be suitable for beginners.
Fiddlerman Master Violin Outfit in Review
What We Like
Premium quality accessories
Great strings regardless of violin size
Lifetime structural warranty
Gorgeous aesthetics
Rich and full tone

What We Don't Like
May be a bit pricier for some players
Not as forgiving to poor technique




Louis Carpini Primo Violin Outfit
The Louis Carpini Primo G2 violin is well-crafted and made for advanced or intermediate players. It features unique and high-quality craftsmanship with durable materials and excellent customer support.
Overview
Features durable maple and spruce tops with ebony fittings and an oil varnish
Brazilwood and Mongolian horsehair bow
Different sizes
Fully assembled and setup
Accessories: carrying case, rosin, extra strings, and bow

Louis Carpini G2 Violin Highlights
Built and designed to give students and intermediates a better sounding and better-looking violin, the Carpinin G2 exceeds expectations in this regard. It has a great tonal sound as well a beautiful handcrafted finish that is well worth the price.
It is built using strong tonewoods. It is made with a dried and compactly grained maple for the back. The look is remarkable. It features authentic ebony fittings that further enhance the overall durability and beauty of the build.
Besides the build quality, it includes a wonderful array of accessories to help you even play better. It comes with a strong but beautiful case to store and carry your violin as well as other accessories.
It also comes with a Giuliani Brazilwood bow with real Mongolian horsehair for a well-balanced and powerful tone.
Built to Last and Perform
This violin is one of the few products in the market to come with a 45-day warranty and full lifetime guarantee. This guarantee demonstrates how well-built this violin is. It further reveals the level of confidence the manufacturer has in the quality of its products.
Details May Need Coverage
While it sports a beautiful design and looks beautiful with a high-quality finish, some people have complained of having their varnish occasionally peel off. The good thing is that Louis Carpini comes with a lifetime guarantee.
Louis Carpini Primo Clearance Violin in Review
What We Like
Lovely sound quality
Hand-built bridge
Lots of extras: case, bow, additional strings, and cloth for cleaning string
Comes with a full lifetime warranty

What We Don't Like
Somewhat pricey
It has a history of varnish peeling




D Z Strad Maestro One-Piece Back Violin
This brand is a premium, high-quality, Maestro Stradi violin from D Z America for advanced and intermediate users. It features a beautiful handmade design, finish and full one-piece back.
Overview
Built using tonewood that is seasoned naturally; Alpine/Italian spruce as well as maple backs and sides.
Carefully graduated with a robust and polished tone
Has a distinct and colorful sound full of depth
One piece back violin
Has an antique hand-varnished look that mimics an older instrument; comes with a case, shoulder rest, rosin, and Brazilwood bow.


D Z Strad Maestro One-Piece Back Highlights
The D Z Strad 509 with a one-pice back is a beautiful and well-built violin. It proves how D Z Strad puts effort into creating world-class violins that are appreciated everywhere.
Completely handmade and hand-varnished, it is a full-size violin recommended for both professionals as well as advanced students and intermediate players.
This model D Z Strad 509 sports a period piece varnish look and feel that translates to an older instrument's sound. It is crafted from naturally seasoned tonewoods such as Alpine or Italian spruce tops and maple back and sides.
This violin has a distinct soft sound that is full of color and depth. It is delicately graduated with a robust and refined sound.
Old-World Quality
D Z Strad 509 has a beautiful handcrafted finish that is hard to come by in this day and age. It also produces a great sound that you can use with all genres of music.
Beauty is in the Eye of the Beholder
Compared to other models in the same category, its antique design makes it rather dull looking. It is also limited to professionals and intermediates.
Maestro

One-Piece Back

Stradi Violin in Review
What We Like
Beautiful hand-built design
Great sound; robust and clear
Versatile; can be played solo or in an ensemble

What We Don't Like
On the pricey side
Looks a bit dull




Designed with the beginner violinist in mind, Yamaha V3 delivers an exceptional midrange instrument for students well worth its price.
Overview
Sturdy Construction
Easy to play with a marvelous sound
Well-known with stellar support
Full kit
Made with high-quality wood that is entirely in controlled environments.
Accessories: bow, case, and rosin


Yamaha V3 series highlights
Yamaha is well-known for producing high-quality musical instruments and equipment. The same can be said about the Yamaha V3 series.
It features a sturdy design and builds with an excellent sound. It is made of high-grade wood that has been well dried in a controlled environment to create a sturdy frame.
Despite being a student model, it offers excellent performance at a fraction of the cost of other high-end models. It is easy to hold and play with a robust design; even kids cannot break it.
Sturdy Supports
We particularly loved the well-crafted chin rest, fingerboard and pegs that are all made out of ebony. It just gives it more strength and durability.
May Be Less Desirable for Professionals
The fact that this violin is a student model makes it less ideal for the professionals. While it has a great sound, it can't compete with other premium model violins for the professional players.
Yamaha V3 Student Violin Outfit in Review
What We Like
Easily tuned
It has a powerful sound compared to others in the same category
Hand finished
Affordable

What We Don't Like
May not the best for well advanced users




This brand is a beautiful, world-class violin built by the renowned violin builder D Z Strad. It is targeted at advanced as well as professional players and sports a unique antique look. It feels handcrafted by talented craftsmen.
D Z Strad 509 Overview
Created from naturally seasoned tonewoods such as Alpine and Italian spruce with backs and sides made from maple.
Delicately graduated with a strong and polished tone
Has a deep, distinct, and colorful sound
4/4 full-size violin
Accessories: case, rosin, shoulder rest, Brazilwood bow.


D Z Strad Model 509 4/4 Full-Size Highlights
The D Z Strad Model 509 violin is highly rated not just for its beauty and craftsmanship but the quality of sound it produces. It is one of the few violins recommended by Suzuki instructors.
It is entirely hand-built and varnished by some of the most talented craftsmen from D Z Strad. It is an absolute joy for both professionals as well as intermediate users.

One of the things you will instantly notice about this violin is the amount of detail and the deep sound it produces. The look comes from the antique varnish, and it feels like an old violin.
D Z Strad made it from naturally seasoned high-quality tonewoods such as Alpine or Italian spruce tops, and maple.
If you are a looking for a soft but robust sound, this is the violin for you. It is deep and quite colorful. One of the things I love about it is the refined and powerful sound as a result of its meticulous gradation.
Built to Sing
D Z Strand has a premium quality finish with a remarkable sound. It is also easy to play. It is so versatile you wouldn't have any problems playing in a jazz band or a classical ensemble.
Antique Finish is Not For Everyone
Not everyone will appreciate the antique look. It is designed for advanced and professional players. Beginners will have a hard time mastering it.
D Z Strad Model 509 in Review
What We Like
Sturdy hand-built craftsmanship
Incredible sound; powerful and pristine
Great for solo performances as well as classical ensembles

What We Don't Like
Has a relatively high price
If you don't like an antique look, you will find it boring



How to Find the Best Quality Violin for an Advanced Student
There are plenty of good quality violins out there. One of the hardest things I had to do was to choose my first violin. After I got my first violin, I thought the next one would be easier. But I soon discovered that I had the same problem when I was a beginner.
There are a lot of options to consider when you are buying a violin. It doesn't matter what level of playing you have reached; the same characteristics apply to all the levels. Some of the key features to look out for include:
The materials used to build the violin
Manufacturers reputation
Budget limitations
Violin size
Materials
The elements that make a violin affect not just how they look and sound but also their durability. High-quality violins will be made out of sturdy materials that allow it to be used for more extended periods. The materials also affect the kind of sound your violin produces.
Soft materials will absorb the sound while hard materials will give a powerful sound. It is also essential to ensure that your violin wood was dried well to avoid warping and sound distortion.
The type of string plays a vital role in the kind of sound your violin produces as much the wood quality. If you are buying a new violin, make sure you check the strings and read the reviews online before buying.
Manufacturer Reputation
If you are careful when searching for violins, you will notice that some manufacturers have high prices compared to others. The reason for this is quite simple. Different manufacturers have different quality standards, target market, and choice of materials.
This process easily translates to different prices and different sounds. You will notice the significant disparity between the sound produced by a generic violin and one from a well-known manufacturer.
Your instructor will recommend the best brands for you, depending on your budget and playing skills. It makes sense to go for a generic violin as you start and advance to better quality as you polish your skills and sound.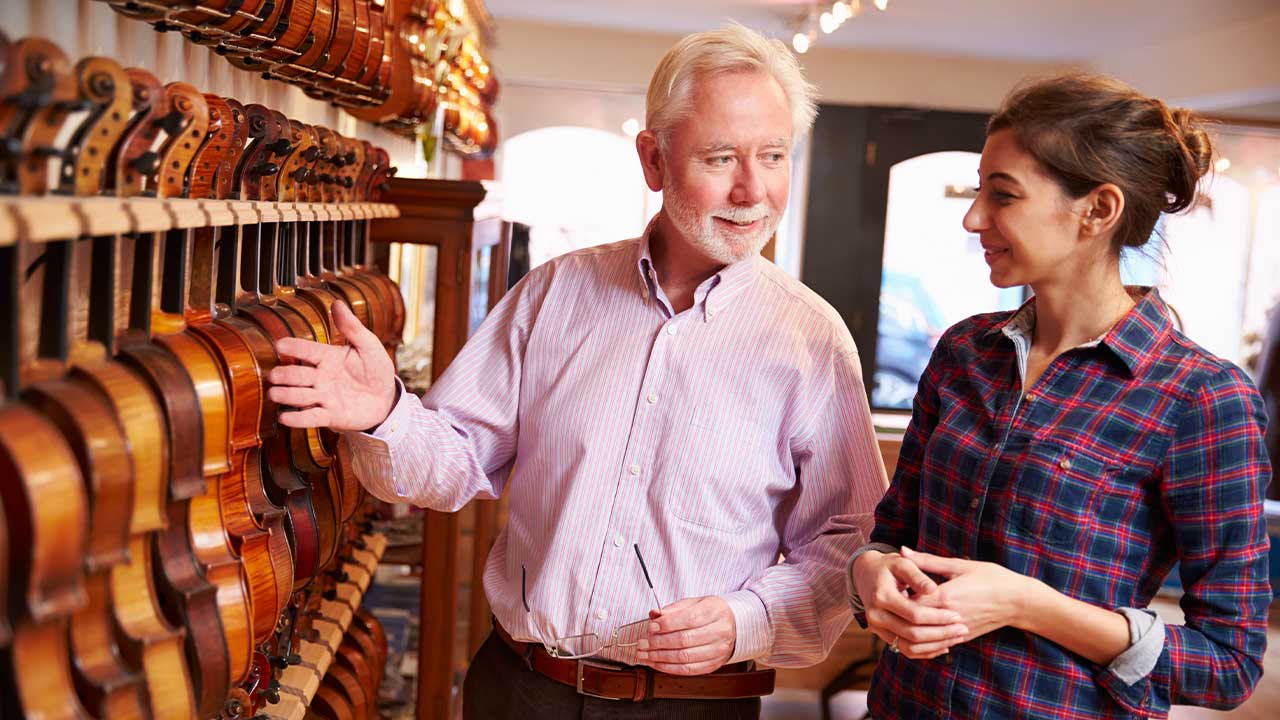 Budget
Like everything under the sun, the higher the price, the better the quality of the violin. It is also true that not all of us can afford premium violins. The key to getting the best features is usually to find a perfect balance between the features you want and the price you can afford.
For beginners, you might be tempted to go for the cheapest sound to save on cost. However, cheap is always expensive in the long run. Some violin manufacturers will use inferior materials to build low-cost violins that sound bland and will break down within a very short period of use.
The best way to save costs is to go for a high-quality used violin. You can easily replace the strings and get a great sound. If you are pressed for the budget but want a new violin, look for beginner or intermediate violins from popular brands.
This way, you get both excellent build quality as well as sound for a fraction of the cost of a professional violin.
Violin Size
Size is among the most critical aspects of any violin. Violins come in different sizes for different player levels. Also, getting a bigger violin than your body size will make your playing difficult and strained.
How do you know the violin size?
Have you ever noticed specific numbers on your violin description, such as 4/4, 1/4, 1/8, among others? These denote the size of the violin. The sizes begin with 1/16, 1/8/, 1/4, 1/2, and finally the 4/4. For shorter people that still want to play a full-size violin, you can go a 7/8.
Different sizes have different prices. A bigger violin translates to a higher price while a smaller violin may cost considerably less. Get your instructor to help you choose the best size for you.
A full-size violin will have a richer sound and is harder to play. So, it is an excellent violin for advanced players.

FAQs on Violin Brands for Advanced Players
What Rosin Is Best for My Advanced Violin?
Rosin is a material that is used to create friction on the bow hairs of violins and other bow instruments. The general rule of thumb for rosin is, the lighter the color of the resin, the harder and less sticky it is.
While easier to clean, a light resin doesn't have as great a sound as dark rosin. If you want to sound better when playing, go darker rosin.
Is There a Specific Set of Strings for My Good Violin?
If you have played a beginner violin and an intermediate level violin, you will instantly notice how different the sounds are. This difference is mostly caused by the type of strings used.
Most beginner violins come with standard strings that don't sound so good. For your advanced level violin, only use premium quality strings if you want to maintain a great sound.
You can see what your manufacturer recommends. Or you can go through user reviews to see what other players are using.

Top High Quality Violin Brands Compared
Violin Model

Best Features

More

Fiddlerman Master Violin Outfit

Hand-built French Aubert Bridge

Complete professional grade outfit

Check Availability >>

Louis Carpini Primo Clearance Violin Outfit

Strong maple and spruce tops, ebony fittings and oil varnish

Marvellous full sound

Check Availability >>

One-Piece Back Old Spruce Stradi Full Size Violin

Classic varnish finish for vintage look, feel, and sound

Beautiful one-piece back

Check Availability >>

Yamaha V3 Series Student Violin Outfit

Wood dried in controlled environments

Highly playable instrument

Check Availability >>

D Z Strad Model 509 4/4 Full Size Violin

Delicately graduated with a strong and polished tone

Soft, colorful sound with depth and delicateness

Check Availability >>

Final Thoughts: Which Violin and Brand Is Best for the Advanced Student?
Just like any musical instrument out there, you are spoilt for choice when it comes to violins for advanced users. We couldn't review every last one of them but have instead gone for affordability and popularity.
We have featured some of the violins that music instructors around the world prefer.
From our review, we particularly love the Fiddlerman Master Violin from Fiddlerman. It is one of the few violins with excellent, completely hand-built craftsmanship and comes with a lifetime warranty. It not only looks great but has a rich, beautiful sound.
It can easily be played in any setting or environment. This violin is one of the few we'd recommend for advanced players searching for an upgrade.
Editor's Pick!

What Do Fiddlerman Master Violin Owners Think? >>
Build Quality

Sound Quality

Value Factor