Made with superior precision and an incredible depth of knowledge, choosing the best Scott Cao violin is an easy matter of matching your expertise with the perfect voice.
Scott Cao Violins From Good To Great
Select Instruments Organized by Value:

Some music professionals think that violinists are only as good as their instruments, which could indeed be said of the best Scott Ciao violin.
Undoubtedly, Scott Cao violins are some of the best on the market, made with excellent wood from incredible Chinese workshops.
The company respects the tradition, the vintage way of doing things, and creating beautiful instruments that everyone loves.
Established thirty years ago, Scott Cao's workshop has received many awards from the Violin Maker's Association and other institutions worldwide.
Performers like Sarah Chang described their violins as some of the best she's ever played on. Itzhak Perlman, another famous musician, has played some renowned violin pieces on Scott Cao instruments.
But in actual fact, these violins are made as copies of legendary violins created by the Italian masters, models that embody a lot of history.
We certainly hope you benefit from the information we provide in this article! Just so you know, we may receive compensation if you use some of the links on this page. If you do, thank you so much!

Top 5 Scott Cao Violins In Review
If you're looking for a good Scott Cao violin for a beginner, there's no better model than this one.
It has a beautiful body, is the perfect size for many different players, and an excellent starting model for anyone.

Scott Cao 500 Violin
A professional player might use this violin as a second instrument as it has good projection suitable for long practicing hours.
Overview
This model is made from ebony and flamed spruce from Europe. It has a lot of delicate features like ebony fittings and high-quality fine tuners.
Compared with other violins from the same workshop, its tone is deeper and more profound.
Scott Cao 500 Violin Features
This Scott Cao 500 violin has a handmade European spruce top and maple body, plus superior quality ebony details and fittings.
It has a lovely varnish and comes with Thomistic strings that give it a nice color and depth. Every 500 violin has a two-piece back and a hand varnished finish.
In terms of weight, it's a light and airy instrument that you can easily use for very complex performances.
It has a clean sound and a strong projection that can easily handle all the deep notes without any tension.
Model 500 Key Points
What We Like
Impressive performance
Attention to details
Structural warranty
Light sound and good projection

What We Don't Like
It demands a lot of practice
Pricey for beginners


The 750 model is a useful instrument that functions perfectly in an orchestra or any small quartet.
A custom-made replica of a historic violin, you might have to wait for six months to get it, but it will be well worth it in the end.

Scott Cao 750 Violin
The Scott Cao 750 series is for those musicians in love with artistic violins who want a high-quality finish for a fraction of the original cost.
Overview
Every instrument is unique and comes with a top-quality maple body and Italian spruce top. With varnish, both types of wood get a fine topcoat of quality Italian oil.
Of course, when an instrument has this high-quality varnish, it significantly improves its sound quality and tone.
With a lovely resonance and warm, powerful sound, this violin is best for solo performances and concerts.
It's also a beautiful instrument for young players who are just starting their careers and students who want to learn more about different techniques.
Scott Cao 750 Violin Features
Every violin from the Scott Cao workshop comes with an excellent, detailed finish. The 750 features a maple body with lovely lines and an Italian spruce top for additional resonance.
It has fine ebony fingerboards and hill style ebony fittings. Everything is carefully chosen to fit the highest standards of fine craftsmanship.
One of the best features is the Domino strings that give it an exceptional thick sound.
With awards for the best tone quality from the Violin Society of America, it doesn't surprise that this model is one of the best in its category.
Model 750 Key Points
What We Like
Well-made replicas
Superior sound
Lovely design and final changes
Thick and rich tone
Great for solo performances

What We Don't Like
Waiting time for special orders


Another well-crafted series of violins that are considered among the best around. The quality of the Scott Cao 850 violin craftsmanship is unique, and the sound instantly recognizable.

Scott Cao 850 Violin
Ideally, they are for advanced learners or adults who want to have a great instrument.
The violins are replicas of some of the most renowned King Joseph, Lord Wilton, and Ysabel instruments, and all are made in China.
Since original violins can cost a small fortune, master luthiers from Scott Cao's workshop recreate and customize them for advanced and famous violinists.
Overview
What makes the Scott Cao 850 model a premium instrument is first-grade materials.
With Italian spruce and some of the best Bosnian maple on the market, the 850 violins are a rare combination of high-quality wood.
All the fittings alongside boxwood are made from Indian ebony, making it one of the most expensive violins.
The famous "Strings" magazine states that these violins are among the best performance violins due to their varnish and superiority over similarly priced instruments.
Features
Every model is constructed from the finest materials. From the combination of fine maple and spruce, all the way to the best hand-applied varnish that combines special oils to achieve warm and intricate sound qualities.
The wood was carefully drained and combined to get the best look and perfect fire lines.
With Indian ebony and a whole array of accessories, everything enhances the instrument's overall durability and beauty.
The 850 violins are often called some of the best sounding violins in their price range, and when compared with similar violins, their sound is far superior.
Model 850 Key Points
What We Like
Premium accessories
The finest woods
Superior sound and projection
Structural warranty

What We Don't Like
Not forgiving to poor technique


Scott Ciao 950 violins are well-designed instruments with excellent tonal quality. Created with a professional violinist in mind, this instrument excels at solo performances and long hours of practicing.

Scott Cao 950 Violin
Overview
The Scott Cao 950 series' replicas are mostly build based on Cannon, Kreisler, Ex-David, and famous Soil violins, instruments with the best acoustic abilities.
Many students find these violins ideal, and adult learners also use them to advance faster. With a light body, these violins can produce a versatile sound.
Every violin is hand-built in China and later shipped to the USA, where the varnish and finishing touches are applied.
Features
The violins you can find in the 950 series are made from a one-piece back, using exclusively European maple.
In combination with the finest Italian spruce, Chinese luthiers carefully assemble a high-quality violin.
The combination of Bosnian maple that's 15-year aged, and highly flamed maple specially used for the 950 series, creates an instrument that can match more expensive brands for the complexity of sound.
Another excellent feature is the hand-carved Indian ebony fingerboard that comes with the Hill style boxwood fittings. To finish, the special varnish for the violins is added to the Campbell studio.
The violin gets its final coating, most delicate strings, and other accessories to become a complete product.
Only highly skilled craftsmen make these violins. What's more, every Scott Cao 950 series violin is ready to play as soon as you receive it.
Model 950 Key Points
What We Like
High wood quality
Quality accessories
Solid sound with the richness
Great looks

What We Don't Like
Not forgiving for poor technique


The last violin in this review, model 1500, is one of the finest products from the Scott Cao workshops.

Scott Cao 1500 Violin
The price is the highest, but it's entirely justified with a spectrum of accessories that only a professional solo player would appreciate and accentuate in their performance.
In Scott Cao's workshop, only two 1500 violins get assembled each month – that's why there's a long waiting list. It comes in four varied sizes so that every player can find the perfect fit for them.
Overview
The 1500 series is the one we could call exclusive when it comes to violin quality and craftsmanship. It's made from 20-year dried Bosnian maple and the best Italian spruce.
You can find Indian ebony fittings and Aubert or Despiau bridge, depending on the player's preference.
The quality of the wood makes the instrument light and airy, especially when a professional plays it.
With a good bow, this violin is perfect for the most challenging compositions. Its sound is sharp and responsive, hence why you see it in many orchestras.
Features
Being a concert-quality violin, the Scott Cao 1500 is equipped with everything a top performer requires from an instrument. It has a specially made Indian ebony fingerboard and boxwood fittings.
To create a rich sound, the 1500 comes with Thomastik Dominant strings and a chinrest from Guarneri.
It also has fine tuners for E string as standard on every instrument, but it comes with Scott Cao's luthier setup.
In many respects, this looks and sounds like an antique instrument – and what player wouldn't enjoy the historical aspects of a 300-year-old violin?
It comes with a range of color and richness, a unique depth that no other violin in that price range can achieve.
With every violin, you get a certificate that proves the quality and craftsmanship of the best luthiers and masters from Scott Cao's workshops.
Model 1500 Key Points
What We Like
Great sound
Impeccable build quality
Rich and nuanced tone
The best accessories

What We Don't Like
You have to wait for one to arrive


Scott Ciao Violin Buyer's Guide
A violin's quality is heavily influenced by the shape and type of wood used in its construction. The craftsman that creates the violin is the one that determines the ultimate outcome and the sound.
Violins are some of the world's oldest instruments, having been around for more than 1,000 years. The best violins come from Italy, and their body, bridge, and pegs determine the softness of the sound and projection.
Scott Cao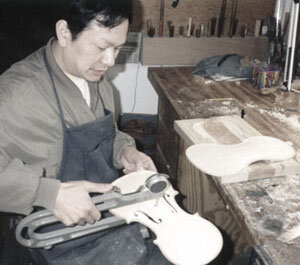 As mentioned above, Scott Cao is a world-famous luthier who's won many awards for his craftsmanship. Not only that, but he's also received a lot of accolades for recreating the works of great masters like Stradivari.
His instruments are excellent for players of diverse backgrounds and knowledge levels.
Cao moved to the US from China and settled in San Francisco, where he still has a workshop. He first started working with old violins, repairing them with skill and knowledge.
Soon, he started reproducing various models and making expensive instruments that are considered masterpieces.
He has created many outstanding violins of varying values, from the most affordable student violins to soloist models.
Scott Cao Violin Body Design
The essence of sound in every violin created in Scott Cao's workshops is the wood. If the wood is dry and dense, the body of a violin will strongly resonate.
That's why luthiers choose only particular wood types like spruce, ebony, rosewood, and Italian maple.
All of them are considered superior to other classes of wood as they grow in the European climate and have a specific texture. They're easy to shape, and once the box is made, its qualities become even more apparent.
Every piece of wood needs to dry for at least five years, but for most violins from Scott Cao, they use wood that has dried for more than 10 or even 20 years.
The older the wood, the better the violin. What's more, the process of forming the violin is more comfortable when the wood is dry and when it can be cut to the perfect shape and size.
The Bridge

Once the body is finished, and the violin is shaped, sized, precisely measured, and cut, it's time to add a good bridge that will contribute to the sound.
The critical element to a clear tone and strong projection on any violin is the bridge.
There are special techniques in every workshop that ensure the bridge's quality and the ideal height for the strings to vibrate. If you look at the shape, you'll notice that the bridge has been placed in the perfect position.
The bridges come from two brands: Despiau or Aubert – the most refined bridges on the market.
The Strings

The strings transform a violin into an instrument that allows artists to express their feelings and virtuosity. Every violin comes with different strings depending on the violinist's preference or a recommendation from the luthiers.
One of the essential elements that determine the sound of any string instrument is violin strings. Different wires can produce an entirely different feeling on the same instrument.
It heavily depends on the materials, quality, and gauge. Before buying strings, make sure you do your research.
On modern violins, you'll usually get an instrument equipped with strings, but you might need something different.
In most cases, the E string is made from metal as it is the highest note, and the metal will provide higher frequency and strength. Scott Cao uses the best strings on their violins, like Thomastik Dominant.
Lifetime Quality Warranty
With most hand-built violins, you can rest assured that they will stay in good condition for a long time.
When it comes to the price of those premium instruments, it will slowly rise over the years.
Accordingly, every Scott Cao violin is a worthwhile investment. After ten or twenty years, the instrument will either hold its value or rise twice or more.
Every Scott Cao violin is a worthwhile investment
One of the best aspects of owning a beautifully made instrument is the quality of its varnish.
In Scott Cao's San Francisco workshops, most violins get a final coating to give them a unique tonal quality.
Whether you prefer red violins or high-quality yellow varnish, all Scott Cao models from the 850 and 950 line have a refined look.
Replicating Old Violins
Cao has immense knowledge about the violins that old Italian masters created, and he can replicate them with extreme precision and skill.
He even managed to recreate some of the most difficult "Cremonese" strand violins from 1715. And the "Kochanski" Guarneri del Gesu.
All of the models recreated in the 950 and 1500 series are more than 300 years old. Plus, he can also refurbish a customer's violin to create a marvelous new instrument.
All of the models recreated in the 950 and 1500 series are more than 300 years old
If there's an instrument that you want to recreate with a different varnish or a different color, a specialist from the Scott Cao workshops has the skills to make it happen.

Cao Violin FAQs
Are Scott Cao Violins Good?
Scott Cao Violins are widely known as great violins for both professionals as well as beginner players. There is a name that guarantees quality, craftsmanship, and high-quality finish of all of their instruments.
Most of their designs are inspired by traditional violin maters, often replicated with great accuracy.
While they still preserved a standard violin's features, every product that comes out of the workshop has unique qualities. They specialize in reviving old violin models for wider audiences.

Many famous musicians own one or more Scott Cao violins.
Among them are Nigel Kennedy, Rideau Grau, and Sheng Ko Shu, a renowned concertmaster.
Many violin masters and orchestra conductors admire Scott Cao's abilities and use his instruments with pride.
Where Are Scott Cao Violins Made?
All Scott Cao violins are made in workshops in China. Once ready, most are transferred to the San Francisco workshops.
After final adjustments and varnishing, the violins are tuned and prepared to be delivered to customers worldwide.
Some Scott Cao violins stay in China throughout the process, but their quality is the same as those made in the San Francisco workshop.

The Final Defining Points Of Scott Cao Violins
If you compare Scott Cao violin prices and quality, it's more than clear how much you're getting for a decent amount of money.
The instruments made with so much knowledge and precision are the perfect examples of violins for semiprofessional and professional players.
A premium instrument will showcase your expertise, therefor Scott Cao is an excellent brand to help you achieve your best voice.
Keep in mind however, these models are not as forgiving for intermediate players as only skilled solo players can handle them.
Each model has a different set of accessories and is considered among the best in its price point.
They all meet the rigorous requirements that Scott Cao's luthiers demand of themselves, ensuring a superior sound for violin enthusiasts and professionals to enjoy.