Great Strings for Violin, and Fiddle
Whether you're a beginner or have been playing for years, your violin strings will wear out. Therefor it's good to know where you can get a good set of strings to replace them.
Compared to traditional gut strings, modern violin strings are much much stable. They hold their tuning much better by being less susceptible to fluctuations in heat, humidity and environment.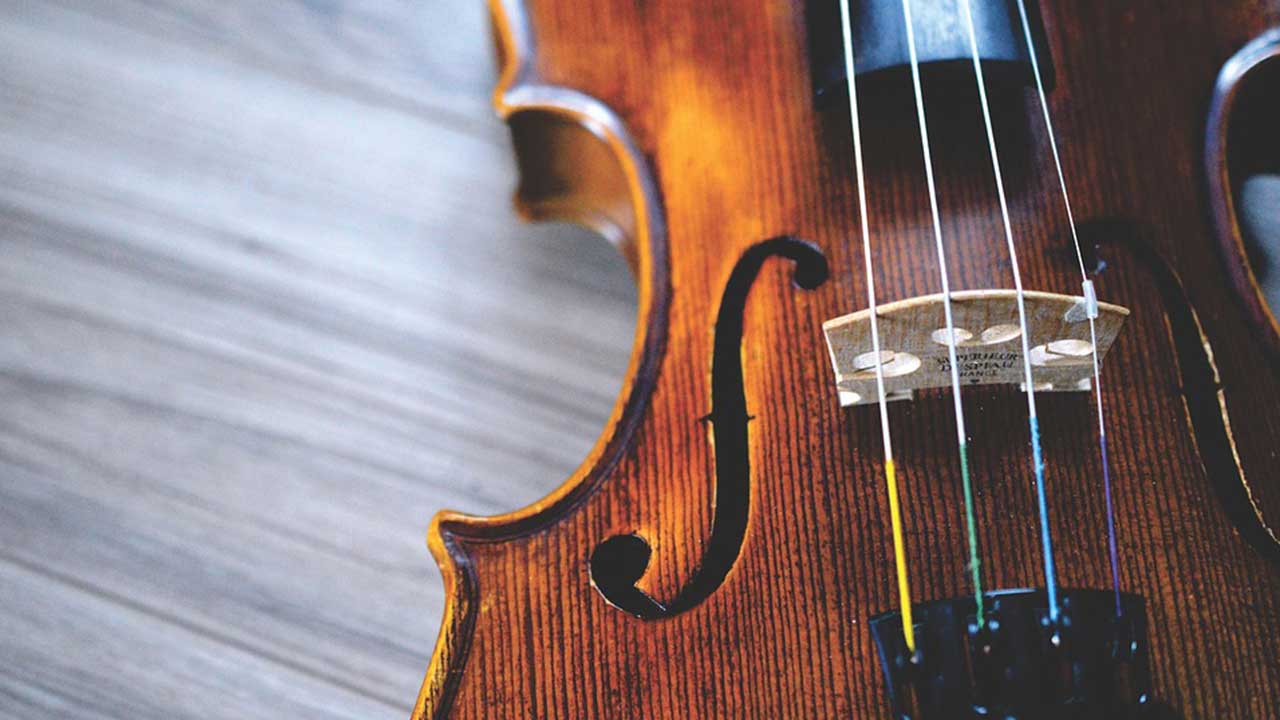 This article is here to help you get a good feel for five different popular brands of strings available for your violin. They come in a range of prices so you can find what works best and fits your budget.
Violin String Choices at a Glance:
Sale
Specs
The Artisan's Violin Strings strings create warm, clear tones that will make even those with a minimal amount of violin experience sound like pros. They are made with a stainless steel core that allows them to have a lot of strength and durability. It also means they keep their pitch easier and require less tuning.
They work well for those of any experience level and come in both full size and ¾ scale. Artisan Strings have been known to be one of the most popular brands for violin strings on Amazon, which goes to show they already get a lot of attention. These strings also come with a no risk, 30 day 100% money back guarantee so you can feel safe in trying them out.
Pros
These strings are great for violins that tend to have a more mellow sound normally. They come at a really nice price, just under $20.00. They also require less work on tuning than other brands, which can be incredibly convenient as you won't have to spend a lot of time getting the instrument to sound right and can spend more time actually playing.
Cons
Strings for any instrument can sometimes be tricky, so it's only natural that there would be a few complaints about strings that break during tuning or with little use. These are delicate pieces of the instrument and can also be easily broken if they aren't handled with the utmost care. However, regardless of why the strings have broken you're likely to receive the best care in solving any problems with Artisan.

Specs
Fiddlerman Violin Violin Strings have a synthetic core, which has allowed them to stand apart from other violin string brands. These strings are made to fit ¾ scale and full size violins. The full set comes in at just under $30.00 on Amazon, making them a little more expensive than other string sets, but these high quality strings are sure to more than make up for the price.
Pros
These great violin strings are known to have a consistent tone, which makes it easier to know what to expect if you ever need to replace your strings again. They settle quickly, meaning you can save a lot of time re-tuning them until they keep the correct notes and they have a smooth sound that will be sure to please all who listen to you play.
Cons
Like many other brands, there can sometimes be quality issues with Fiddlerman Violin Strings. It's important to be extremely careful when putting the new strings onto your instrument as well as when tuning and playing them because sometimes they can easily break. For peace of mind, it's always good to know what the replacement policies are when looking for new strings, that way if a problem does come up you can get it solved quickly.

Sale
D'Addario Prelude Violin String Set, 4/4 Scale, Medium Tension
Solid steel core optimized to create the warmest-sounding student strings available
Educator's preferred choice for student strings due to their unique blend of warm tone, economy, and durability
4/4 scale violin with a playing length of 13 inches (328mm)
Medium tension
All D'Addario strings are designed, engineered and manufactured in the USA
Specs
D'Addario Prelude Strings are available in ½ scale, ¼ scale, 1/8 scale, 1/16 scale, ¾ scale and full size. This gives them a wider range of string variety than many other brands. They also have the option of coming in light, medium or heavy tension depending on the sound you're going for. They are built with a solid steel core made to create the warmest sounding strings available. Because of their combination of warm tone, low price and durability they are often highly sought after by violin educators.
Pros
While these strings might not be the absolute top of the line, they provide an excellent quality for the price, making sure you get great value for your money. They have a wonderful, smooth sound making them great for violin players of any level of expertise to enjoy. They're also strong, which works particularly well for younger players who are still learning how to take care of their instruments. Overall, they are especially great for beginners and come in at under $20.00, making them budget friendly as well.
Cons
On occasion, customers have noted getting strings that are not the correct size or tension level. Some customers have also mentioned receiving bent strings. These kinds of issues can happen, particularly for brands that get a lot of orders. It's important to make sure you know what the policies are for getting the strings replaced, just in case. Also make sure to have an easy method to contact the company in case you happen to come across any questions or problems.

Vizcaya 2 Full Sets Violin String
Vizcaya 2 Full Sets Violin String (G-D-A-E , G-D-A-E) for 4/4 - 3/4 Size Beginner,Student Violin Replacement ,Extra 4 string(E1,A2,E1,A2)
Vizcaya deluxe Violin Strings suitable to use on 4/4 and 3/4 Violin sizes. 3/4 and 4/4 Violins uses the same size strings.
High quality solid steel core for nice warm tone and longevity.
Steel core composite aluminum-magnesium alloy wound with ball end.
Flexible and soft to the touch makes playability easy for all player levels.
The package included 12 strings( E-A-D-G,E-A-D-G, E-A, E-A).So you have 4 E strings,4 A strings,2 D strings,2 G strings.
Specs
These Vizcaya Violin Strings present a low cost option for those who don't want to spend a lot on replacement strings. They work for both ¾ scale and full size violins. Like many other brands, they are made with a solid steel core in order to allow for durability and a nice, warm sound.
These strings are flexible and soft to the touch, making them easy for players of any experience level to use. Each package comes with 4 E strings, 4 A strings, 2 D strings and 2 G strings. With that many extra strings, it's likely you won't have to worry about buying new strings again for quite a while. They come in at under $10.00, making them the budget pick for this article.
Pros
These strings have a lot of benefits, which include being easy to use and replace other strings with. If you know how, it shouldn't be too much of a struggle to get these strings put on your violin in no time. There are a lot of strings for a low cost, so you'll have plenty of backups in case any breakages should occur. The cost, durability, and sheer number of strings makes them great for beginners.
Cons
Because these are budget-minded strings, they do have the possibility of having a lower quality than other brand options. It does help that there are so many strings in the package, but it's good to keep in mind that there may be some breakages. Also, at times these strings have been known to be difficult to tune.

Specs
This is a set of four high quality violin strings, including one of each different note. They work on both ¾ scale violins as well as full sized ones. These Stravilio Strings come in at just slightly more than the Vizcaya ones, which still makes them very budget friendly. They have a steel core, similar to other brands. While these don't come in a huge pack, each string is likely to have a little higher quality which ultimately makes it less likely to break.
Pros
Especially for being very low cost strings, the Stravilio strings have been noted by customers to have a high level of quality for the cost. They have a great sound at a great price, making them incredibly convenient for violinists of all ages and levels of expertise.
Cons
While these are considered to be decent strings, it's important to remember that you do get what you pay for. Meaning in a lot of cases, more expensive strings are probably going to be less likely to break or have difficulties being tuned.
However, many people simply can't afford to spend a lot of money on replacement violin strings, or they have younger players who haven't fully learned how to take care of an instrument. In either case, it's great to know that you can still get good strings at a low price.

Compare These Violin Strings:
Conclusion
Overall, a lot of people find a brand of string they prefer through trial and error. Unless you want to spend a lot on new violin strings and make sure they are put on by a professional, it's going to be tough to tell what kind of issues you may or may not come across.
If you're extremely budget-minded then the Vizcaya strings are an excellent option. They are inexpensive and include 2 or 4 extra strings, so if any of them do happen to break you will still have backups.
If you're okay spending a little more money, a lot of customers really enjoy the D'Addario Violin Strings over other brands. Largely it's going to be up to you to decide which ones are going to work best. Luckily, there are articles like this one to help you with getting through that process.