At a glance:
Mendini Full Size 4/4 MV200 Solid Wood Violin with Tuner, Lesson Book, Extra Strings, Shoulder Rest, Bow and Case, Natural Varnish Finish
4/4 (Full Size) Hand-carved solid spruce top, solid maple back & sides
Beautiful varnish finish
Maple fingerboard, chin rest and pegs, Alloy tailpiece with four integrated fine tuners
Includes: Brazil wood bow with unbleached genuine horsehair, extra set of violin strings, two violin bridges, a quality rosin, adjustable shoulder rest with soft foam padding & soft rubber feet, Violin First Lesson book, Cecilio clip-on tuner, and a lightweight form fitting hard case with pockets, backpack and shoulder straps
1 Year Warranty Against Manufacturer's Defects
Mendini MV200: A Good Starter Violin That Doesn't Break the Bank
Some people will tell you that in order to get a decent violin for a student, you have to spend at least $200 to $300. But, what if you are buying the violin for a child who may or may not decide to stick with it after a few lessons?
If you have spent a lot of money on an instrument, you won't be able to get your investment back. Luckily, there are some very inexpensive violins available that may not be the highest in quality, but they are perfect for someone who is just taking their first lessons. One of those models is the Mendini Full Size 4/4 MV200 solid wood violin.
Features of the Mendini MV200
The hand-carved Mendini V200 is made with a solid spruce top, with solid maple sides and back. The handsome varnish finish compliments the maple fingerboard, pegs, and chin rest, and the alloy tailpiece has four integrated fine tuners. This bundle package has everything the beginner needs to start learning how to play the violin right away, and it costs less than $100.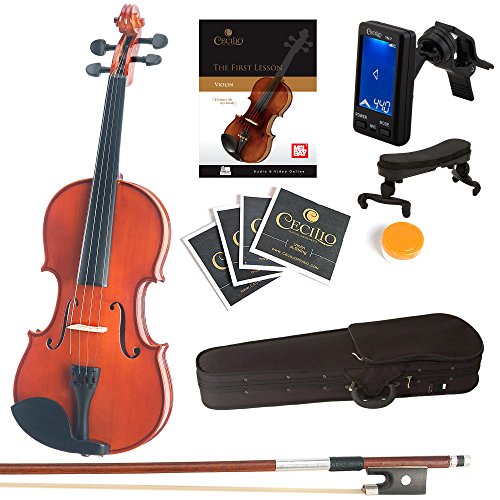 This package includes:
Mendini MV200 violin
Brazil wood bow with unbleached horsehair
Installed strings and extra set of strings
Two bridges
Rosin
Adjustable, padded shoulder rest with rubber feet
Cecilio clip-on tuner
Lightweight, hard case with backpack and shoulder straps
Violin first lesson book
If you are looking for an inexpensive violin for beginners and students that has a decent sound, the Mendini MV200 from Cecilio is a great choice. Each violin from Mendini is thoroughly inspected by the technicians at the Cecilio distribution to ensure that all quality standards are met or exceeded. Even at this low price, you are going to be getting a quality violin that is ideal for students.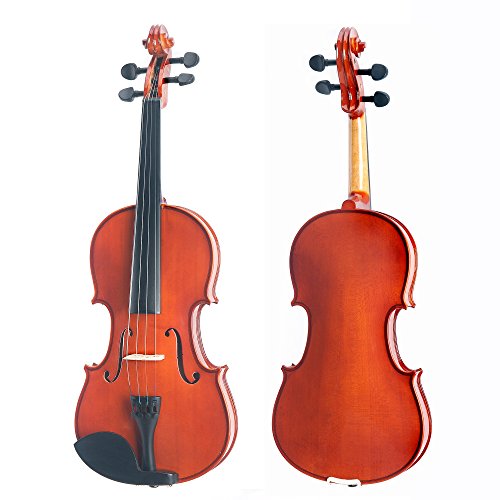 Features include
For an inexpensive violin, you will be impressed with the vibrant, bright sound quality that makes it great for learning
The adjustable shoulder rest sits comfortably on the shoulder, and it has soft foam padding, making it comfortable for extended playing
The bridge is not too high, so not a lot of pressure is needed when fingering the neck, which is great for beginners
The ebony tuning pegs are solid and stable, and they are easy to turn. Many other violins in this price range have plastic pegs
The Mendini MV200 comes with a one-year warranty against manufacturer defects, and offers excellent customer service.
Superior quality bow
One of the biggest problems many people have with inexpensive beginner violin packages is that the bow is of a low quality. That is not an issue with the Mendini MV200 bundle. The bow that comes with this package is made with Brazil wood, and has genuine, unbleached, Mongolian horsehair instead of synthetic fibers.
Great for kids
This full-size violin is great for kids, because it is lightweight, making it easy to hold onto. It weighs just over four pounds, and measures 32 X 12 X 5 inches. The maple fingerboard is hard and durable, but feels smooth when fingering the neck. Overall, if you are looking for an instrument to get your young learner started, without having to worry that they will lose interest and you will be out a lot of money, the Mendini MV200 is an excellent choice.
Pros
This violin is strung and ready to play, and comes with extra strings
Quality wood tone gives this violin a great sound
A light varnish makes this an attractive instrument
The bundle includes everything a beginner needs to start learning how to play the violin
Cons
The bridge post may need to be adjusted before this violin is playable
The pegs can slacken somewhat due to the tension on the strings (can be fixed with liquid rosin)
Painted models, such as the pink model, may not be completely painted
In some cases, the bows are warped and need to be repaired or replaced
All in all, even though there are a few minor issues, you are going to be hard-pressed to find a better-quality violin at this price range. This is a great beginner/student model, and ideal for finding out if the violin is really what your kids want to play.
Compare these violins:

Conclusion
When your kids come home and tell you that they want to start playing the violin, instead of running out and spending a lot of money on an instrument that they may lose interest in, the Mendini MV200 from Cecilio is perfect. The bundle package comes with everything they need to start learning, and with proper care and handling, should play well for several years.