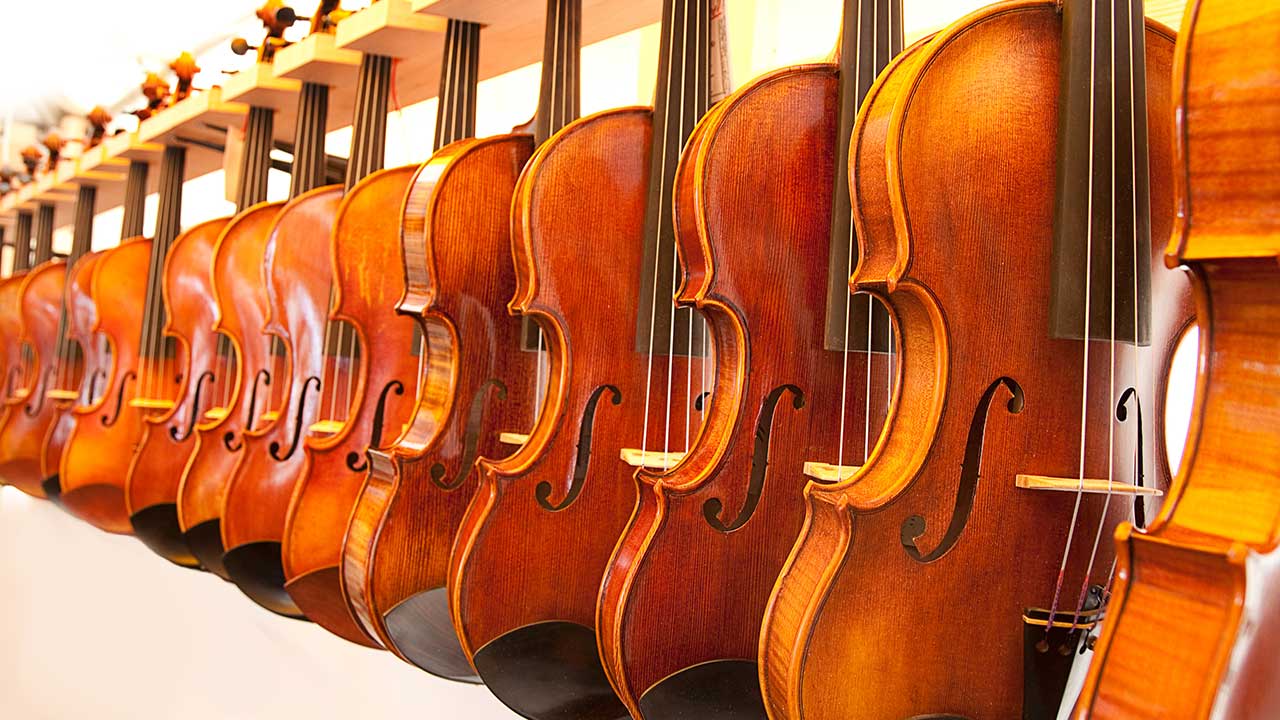 What is the Best Violin Brand?
Purchasing a violin should only be done after you've considered your options about the brand, and model that fits your requirements. This is why committing to buy one should only be done after you've researched the instruments you're interested in.
Since violins aren't necessarily the most affordable musical instrument on the market, the advice In this article will help you discover some of the best violin brands. You'll also be able to pick up some useful tips about making an informed decision in selecting a violin that's right for you.


How to Choose a Good Violin
In selecting a violin to purchase, it is very important to consider the following:
Skill or level of expertise
One of the first things to consider is the skills or capability of the player. There are violins that are meant for beginners and there are also others that may best for more experience players.
It's best to match the level of the player with the violin design so that the beginner player doesn't get to frustrated in trying to play a violin meant for a more experienced one. It also prevents the more experienced player from being limited with what they can do with the beginner violin.
Budget
The budget is another very important aspect to consider in purchasing a violin. Violins come at different prices and this depends on what materials are used, how it is constructed and even the brand that makes them. It is very important to compare the price with what you are exactly getting.
The most expensive violins are handcrafted and are mostly from Europe. Although they can be the most sought after for violin enthusiasts, there are also some lower priced ones that can be a great instrument too.
Make sure that the budget is realistic because violins don't come cheap. You also wouldn't want a very low-priced violin that is also low quality; you'll just end up replacing it and spending more just to be able to play.
Type of playing
Some may want to learn how to play the violin for classical music, while others may want to play it, fiddle style, for folk music. Either way, the player should identify how they want to play so that they can find a violin more suited for them. Violins that have a flatter bridge are best for folk music while those with an arch bridge are best for classical music players.
Usability of the violin
Another thing to consider is how long the player can use the violin. Although it is great that there are beginner violins, it is still best that the violin grows with the player. With that, the player won't have to change and upgrade violins every few years.



Best Violin Brands by Name
Now that you know what to consider when purchasing a violin, it is time to get to know the best brands of violins and why they are considered among the best.


Although most of the best violins are handcrafted by an artisan, there are still some commercial brands that offer great choices when it comes to violins. Yamaha is one of these brands and they are known not only for their violins, but other musical instruments too.
For a beginner, it may not be best to purchase an artisan violin because they still need a lot of practice to play it. Most often than not, the best-quality violins are more difficult to play and learn from.
Yamaha is a Japanese manufacturer and their violins are known to be sturdy and reliable. They have violins for players of different levels. The "Standard" line is meant for students and beginners.
They also have more professional or higher level violins that even the more experienced players will greatly appreciate. Some of their violins are inspired by the famous handcrafted violins that well-known luthiers have crafted in the past.
Top Yamaha Violin Choices:
Pros
Well-known brand for providing great-quality musical instruments
Has models for various levels of players
Known for producing great-quality sound
Cons
Yamaha is a well-known brand and that makes them a target for counterfeiters, so buyers should be careful.


Cremona
is a brand that was founded in 1899 and is currently controlled by Saga Musical Instruments who maintain an exceptional level of quality standards for all of the many different instruments they offer. They provide various models of violins suitable for beginners and more intermediate players alike. They produce high-quality violins because the makers were trained by the Italian and German masters themselves.
They are a well-recognized brand and are recipients of multiple honors and authentications because of how they create their products. They not only create quality violins, they also manufacture bows.
They make use of high-quality wood and are careful in their assembly to make sure that the product is properly made. This may be the reason why they price their violins at a higher price than other brands.
The great thing about buying a violin from this well-known brand is that you can easily resell it as a used violin if you decide not to pursue playing it. There are many people who would love to buy this kind of violin, even if used.
Top Cremona Violin Choices:
Pros
Well-known brand and it can be easy to resell the violin when you don't need it any more
They make use of high-quality materials to create the violins
They carefully assemble each of the violins
Cons
Their violins are relatively expensive as compared to other brands
They don't manufacture locally and their workshop is found in China, so it is difficult to see their process up close


Another very popular brand, and one of the best is Stentor. They provide high-quality violins that are also very durable, which may be one of the reasons why it is one of the most recommended brand by teachers.
Stentor has been around since the late 1800's but it was in the 1960's that they first crafted their own violins instead of previously importing them. This means that the quality of their instruments has improved and since then, they have built a great name for themselves.
Most Stentor violins, such as the Stentor 1500 model, are meant for beginners, but they also have other higher quality violins that are meant for orchestra play. It makes it possible for students to practice with them, as well as grow with their violins as they reach higher levels of expertise.
They make use of high-quality tone woods which produce a warm sound. Most models, if not all, make use of ebony fingerboards and pegs, which not only improves the sound, but the appearance as well.
Top Stentor Violin Choices:
Pros
High-quality hardwood is used to produce a warm sound
Not only sounds great, but looks great too
The company has built a good reputation for providing good-quality violins that most teachers recommend
Cons
Violin produces a more balanced sound but is not really that special
May be more expensive than other brands.


Violin Sizes
With any brand of violin that you choose, you should also make sure that the size fits the intended user. Violins actually come in many sizes, with full sizes for adults, also known as 4/4 size, to the smallest for children, known as 1/32.
Measurements of the extended arm of the player from the base of the neck to the wrist will be taken to make sure that the right size is purchased. If you are already an adult, then it will be much easier to buy a violin in the right size because you won't have to change the violin every couple of years to accommodate growth.


Acoustic vs. Electric Violins
The traditional acoustic violins may be more common to us but there are also electric violins. Just like electric guitars, they are fitted with electric pickups.
Electric Violin Choices:
Traditional acoustic violins produce a warmer and rounder sound because of the tone woods used. On the other hand, the sound produced by the electric violins can be easily enhanced or edited.
When it comes to appearance, the acoustic violins come in their traditional shape. Electronic violins, on the other hand, can come in different shapes. Due to the lack of the bulk of the violin, it can be very lightweight and modern looking.



Conclusion
Purchasing a violin should be carefully done and with research in order to end up with a worthy purchase. There are a few well-known brands in the market such as Yamaha, Stentor and Cremona, as well as Mendini, Cecilio and Ricard-Bunnel which all offer great-quality violins.
When purchasing a violin, it is important to consider your budget, the skill level of the violinist, type of playing done, and the usability of the instrument. Players can also decide whether to get a traditional acoustic violin or a more modern electric violin.
Choosing a violin to purchase is a personal choice, but that doesn't mean that you just have to rely on your gut instincts. A better way to do it is to first do some research here so you end up with the right brand and model for the player.