The Cecilio brand makes brass, woodwind, and violin instruments. But how well does the Cecilio CEVN-2BK Electric/Silent Violin stand up? Find out here in our feature review.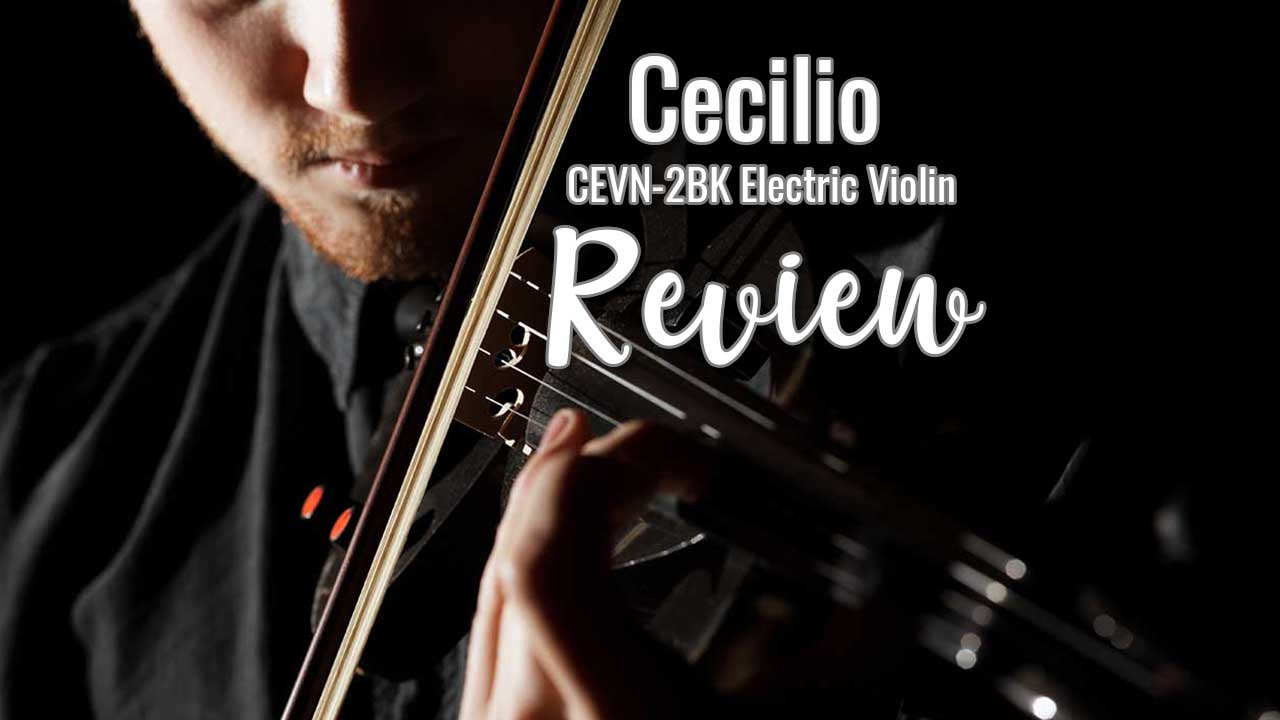 The CEVN-2BK At a Glance





Cecilio CEVN-2BK Violin Review – Can You Expect Quality at This Price Point?
For those new to the world of instruments, Cecilio is best-known for its violins. The company's name is derived from St. Cecilia's, the patron saint of musicians. Based in Los Angeles—the City of Angels—the Cecilio brand sure has a lot going for it! Just note that some products are manufactured in China.



Regardless of the country of origin, know that Cecilio assures that its high-end line of stringed instruments is made by qualified luthiers using woods aged no fewer than seven years. Cecilio is a direct supplier to a lot of schools in the U.S. So, it needs to remain centered on design and quality.
We certainly hope you benefit from the information we provide in this article! Just so you know, we may receive compensation if you use the links on this page. If you do, thank you so much!

Overview
For those readers new to violins, why is an electric like this Cecilio model called, "silent"? The construction of an electric doesn't allow it to make nearly as much noise, acoustically-speaking, as a traditional violin.
Like an electric guitar versus an acoustic, this violin is meant to be plugged in, amplified or used with earphones. So, while it emits sound, it is many, many times quieter than an acoustic model.
One other quick word to buyers…Any musician who started out with a cheap or flimsy instrument can tell you that it actually discourages learning.
If you or your little loved one intend to take up the violin, some advice would be this: make sure you research your best electric violin choices, and get something that is sure to hold a tune and withstand being dropped or banged (maybe on purpose…). Spend a little more and, at worst, a quality instrument will have some re-sale value.



If you're researching the Cecilio CEVN-2BK model, in particular, its unlikely you're new to violins. This instrument is designed for recording and stage performance, and upon studying its finer points, clearly the price and value will speak to intermediate or better players. Neither the most expensive nor the cheapest, it promises a lot and we will talk about how much it delivers.
New or experienced, is this Cecilio electric violin right for you?

Features of the Cecilio CEVN Electric/Silent Violin
This Cecilio electric violin comes loaded. There's a 1/8" output jack that connects to amplifiers or PA systems. One ¼" jack also is included.
The outfit includes headphones, which are nothing to write home about, as well as a jack for practice and one line-in jack, so you can play along with a background track. It even includes the 9-volt battery.
The lightweight, hardshell case is nicely padded, and the bow and rosin are of decent quality and construction. Some players have made comments about the strings.


The strings are no different than those you would buy for any other violin, but not top of the line. The Cecilio CEVN comes outfitted with standard D'Addario violin strings.
Picky players wanting to upgrade to helicores will learn that the Cecilio is really designed for finer strands. This may lead you to wanting to replace the tailpiece.
But if you're taking it that far, well, you're just picky, you want helicores, and that's okay. Being honest, no matter what you buy, you're the type who kind of enjoys retrofitting instruments to get them the way you like them. (Editor's note: I have a right to write that…because I do that, too.)
So, this is truly an all-in-one kind of kit. Intermediate or better players aren't buying it for the headphones. But the overall idea of kitting so many accessories together is quite helpful.




Fit and Finish
The Cecilio CEVN Electric Violins are available in eight sizes. There's 4/4 (or full-size), 3/4, 1/2, 1/4, 1/8, 1/10, 1/16, and 1/32. The 4/4 is biggest and 1/32, obviously, the smallest.
Chances are you'll be considering a 4/4 or the 3/4, which comes down to the length of the player's neck to the wrist. Some say, mid-palm, but experienced teachers will tell you to measure to the wrist.
If you're a first-timer to violins, just keep in mind that you're basically tuning a wooden dowel stuck by pure friction—no machined-tunings like a guitar's—into a hole. So, the trick to staying in tune is using rosin on the tuning peg. Be sure you press it in while turning, so it stays tuned.



The black one has a metallic finish which is pretty darn cool, if you're going to have an electric violin. Of course, there's a range of finishes from black to maple.
Overall, paint and finish are not the highest grade, and may seem to run thin or uneven in some areas if you look closely. Some black on the fret board rubbed off on the fingers early on.
But this is more likely due to a missed step at the factory—leaving dust from a spraying booth or something unwiped.

How Does the Cecilio CEVN-2BK Sound?

Compare featured violin models:

Conclusion: Is The Cecilio CEVN-2BK A Good Choice For An Electric Violin?
The Cecilio CEVN-2BK electric model is a nice-looking violin and it comes with a lot of extras. Most of those extras make this a true, plug-and-play experience for beginners. For intermediates, or if you have a good ear, you'll want to put on better strings.
D'Addario Helicore violin strings may present a challenge, but you can buy nicer strings without going to helicores and changing the tailpiece.
For the price, this is a handsome, well-designed violin that delivers dynamic sound when amplified, tuned, and perhaps re-stringed



Read What Owners are Saying About the Cecilio CEVN-2BK! >>

Build Quality

Sound Quality

Value Factor