In this Cecilio CEVN-3NA Electric Silent Violin review, we take a look at the good, the bad, and the ugly of what this instrument has to offer.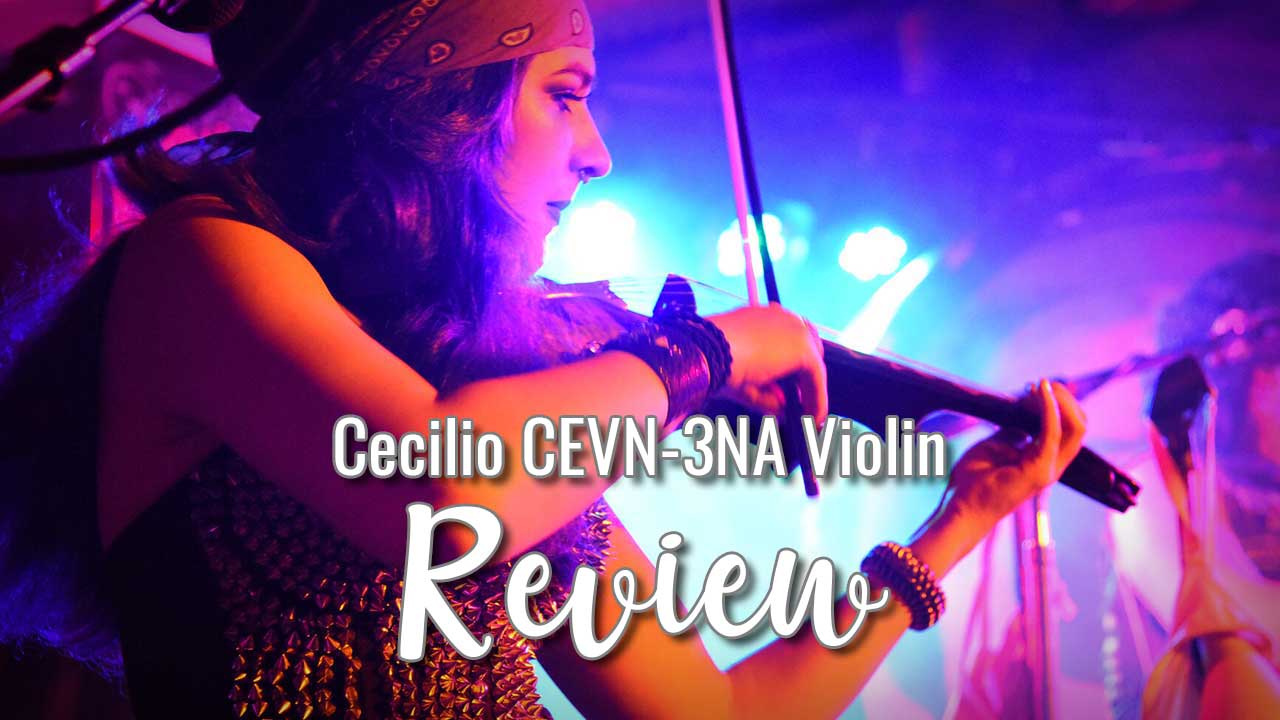 The Cecilio CEVN-3NA Violin at a glance:


Cecilio 4/4 CEVN-3NA Solid Electric Silent Violin


Cecilio CEVN-3NA Electric Violin Review: What Makes It Special From the CEVN Series?
If you've never played an electric violin before, then this will be a new experience for you. These instruments play very softly unless plugged into an amp. This is great if you need to be able to practice anytime, anywhere.
If you have to worry about disturbing the neighbors, you'll want to consider using the Cecilio CEVN-3NA Violin.
We certainly hope you benefit from the information we provide in this article! Just so you know, we may receive compensation if you use the links on this page. If you do, thank you so much!

Cecilio Electric Violin Overview

To kick off this Cecilio CEVN-3NA Violin Review, let's have a look at what you're getting. It's a full-sized model made in what the company terms, "Style 3."
The wood used for the body is solid maple, and has been carved by hand. The ebony fingerboard provides a lovely accent for this piece as well.
It comes with everything that you need to get started. You'll get:
A full-sized violin
The bridge
The bow
A 9V battery
An aux cable and headphones
A lightweight case. The case is of reasonable quality and will prevent your instrument from getting scuffed up or damaged. We wouldn't suggest flinging the case around, but it will protect the violin from an accidental drop.
We recommend getting some spare batteries for quick changes when you need them.

A Solid, Silent Instrument

The maple body is solid wood, not a composite. This makes it a lot less fragile than its more traditional counterparts. It has a cool, funky look that is going to make a splash whenever you perform.
The manufacturers have provided a year-long guarantee against manufacturer's defects.
What we liked best was the way we were able to control the sound. It's barely above a whisper if it's not plugged into an amp. That means that whether you're playing it at three in the morning, or three in the afternoon, you're not going to disturb anyone.

The CEVN-3NA Comes Ready to Play



With the instruments in this price range, you usually have the issue that they need to be set up before you can use them. The bridge does come separately, so you do have to set that up first. Aside from that, it's ready to play.
You'll get a great sound out of this violin from the beginning, and you can easily do the prep work yourself. The tuning may need to be adjusted, naturally, but this is also easy to do with this violin. As with most new instruments, it can go out of tune quickly.
If you find that the pegs are slipping, you can apply rosin to prevent further issues.

Features and Specifications Summary




This is a relatively simple model, but for the price, you wouldn't expect a lot of features. Here are the specs and features that you need to know about:
Full-size electric violin
Soft tones unless you're using an amp
High-gloss finish
Solid maple, hand-carved body
Durable ebony fingerboard
A handsome tailpiece featuring an inlay of mother of pearl
Powered by a 9V battery
Protected by a decent case that is lightweight and reasonably strong
A bow featuring genuine Mongolian horsehair
The body of the bow is made from Brazilwood
You get a fair amount of rosin to start with
The bridge is included
Aux cable and headphones
One-year warranty

CEVN-3NA Violin Sound Quality

How good is the sound produced by the Cecilio CEVN-3NA Violin? Prepare to be pleasantly surprised. The quality is good, especially considering the low price point. To say that this model outperforms others at the same price point is to understate things.
It's not going to outperform the more professional models, but the quality is high enough for a beginner to get a good grounding. The tones are clear and clean.

Build Quality

Like with the other models that Cecilio has put out in this line, you're getting a better build quality than you might expect. The body is made of solid wood and has been put together with a lot of care.
This is not an instrument that is going to die on you quickly. The hand carving on the body gives it a unique look without damaging the integrity of the structure.
What you aren't getting is top of the line strings, but that's not unexpected.

Pros and Cons

Cecilio CEVN-3NA Electric Violin Review

What We Like
The perfect starter kit
You get a full year warranty against manufacturer's defects
The price is right
It's been finished well and looks great
The body is made from solid wood

What We Don't Like
We'd have preferred something that was rechargeable
It tends to be a little heavier than others in this class
Don't expect great things from the bow


Read What Cecilio CEVN-3NA Violin Customers Are Saying >>

Adverse Features Summary
You're getting a starter set at a rock bottom price. As a result, you can expect some compromises. Fortunately, in this case, it's not with the sound of the instrument. Where the company has saved money is with the bow and the strings.
Don't get us wrong, you can use the strings and the bow that come with this model, but we'd recommend replacing them as soon as possible.
It's not unusual for a company to install cheap strings in a new instrument. However, we'd love to see this change in the future.
The battery is also a bit of a pain. It takes a standard 9V battery, which is good because it's easy to find replacements. We'd have preferred something that could be easily recharged, even if it meant paying a bit more, though.

Compare Similar Electric Violins:



Final Thoughts: Is the Cecilio CEVN-3NA a Good Electric Violin?
With the Cecilio CEVN-3NA Violin you get a decent starter set with the basics. We'll even go so far as to say that it's one of the best value for the money options.
You do have all the basics that you need to get going. But you may want to replace the strings and bow later. We would also recommend getting some decent peg oil and a shoulder rest. But you don't have to do that if you don't want to.
We like this model because it's been well-built, and it sounds excellent. There are better models out there for sure, but none at this price point.
Will you want to upgrade to something better later? Naturally, but for the meanwhile, this model will do just fine.



What Do Cecilio CEVN-3NA Violin Customers Think? >>

Build Quality

Sound Quality

Value Factor
---

Recommended Accessories: