At a Glance:
ADM Acoustic Violin 4/4 Full Size with Hard Case, Beginner Pack for Student, Red Brown
Solid wood full size 4/4 violin, attractive dark brown varnish
Hand-carved solid Spruce top, Hand-carved solid maple back and sides, Hand inlayed purfling, Ebony pegs and chin rest, Alloy tailpiece with 4 integrated fine tuners
Includes: light weight shaped violin case , Brazilwood round stick violin bow with unbleached white horsehair, rosin, fingerboard sticker, polishing cloth and E-tuners
1 Year Warranty Against Manufacturer's Defects
It is perfect for the beginner or student violinist in more advanced training stages
The All Days Music (ADM) Full Size Handmade Wooden Acoustic Violin Outfit is known to be the least expensive beginner instrument available online.
It produces a remarkable sound and is aesthetically appealing to the eyes, which can further encourage beginners to perform well. And because of the affordability that ADM Full Size Handmade Wooden Acoustic Violin offers, you can now have your own violin without having to dig too deeply in your pocket.



Product dimensions: 32.3" x 10.6" x 5.9"
Product weight: 6.4 ounces
Full size (4/4) for children ages 9 up to adults with an arm length of 23.5" and higher
Hand carved solid wood. Uses seasoned valued wood to create a wonderful sound
Solid spruce. Hand carved, used for the front part
Solid maple back and sides. Hand carved as well
Has hand inlayed purfling
Ebonized or blackened solid hardwood is used for the fingerboard, pegs and chin rest
Tailpiece is made of alloy with 4 built-in fine tuners
Accessories included: Shaped foam case with straps, violin bow made from Brazilian wood with natural horse hair, rosin cake and electronic tuner
F holes for added resonance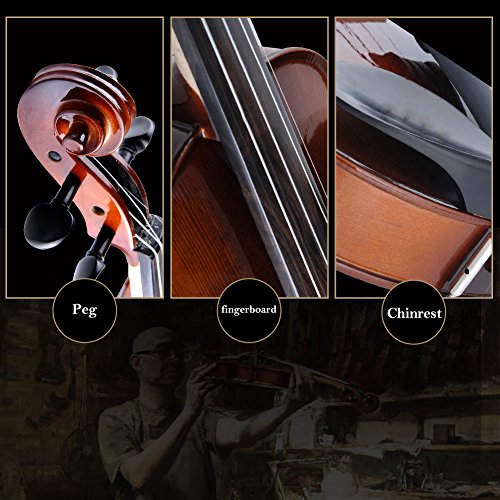 Pros
Great for students with very limited budget who want to have their own violin to use
Exquisite design and details used to enhance appeal
Also, because of the affordability of this instrument, it is a low-risk instrument that you can buy for a child, or if you are not yet sure if you will be playing the violin for the long haul
Easy to set up
Tuning the instrument is easy to do with the help of the digital tuner that comes with the outfit
Cons
Because the fittings (fingerboard, peg and chin rest) are made of blackened solid wood, the violin has the tendency to rub off the black color to your fingertips as you continuously use the instrument
Most teachers and conductors consider this model as a "violin-shaped object" (VSO) instead of a real violin
According to a few people who have used this product, it has the tendency to slip out of tune easily
Summary
The ADM 4/4 Full Size Handmade Wooden Acoustic Violin Outfit offers a great bargain for a low-cost violin with good sound quality. The outfit also includes useful accessories and spare parts that every beginner would truly appreciate as they start their violin lessons. By considering a complete starter set like this one, the ADM 4/4 Full Size Handmade Wooden Acoustic Violin is a cost-effective way for students to have everything they need instead of buying accessories separately which could cost more.
Comparison
The Stentor 1500 violin also offers a complete set for beginners, and intermediate students looking fora quality, but affordable option, can also find this suitable as most people who reviewed this product find that this instrument produces clear and bright notes. The make of this violin features a fully hand carved spruce top and a solid maple back and sides.
It uses ebony for the fittings like the fingerboard, chin rest, pegs and features an alloy tailpiece with four string adjusters. Another great feature that this violin offers is the set of Red Label strings used as stock, which are sensitive and durable.
Setting up this violin can be tricky for beginners to perform, but more advanced violinists will find it easier. Once properly tuned, this resonant violin will hold its tune for a long time, unlike other less-expensive models that frequently need to be tuned.
Another entry-level violin popular among beginners is the Cremona SV-500 Premier Artist Violin. This violin is well-liked because of its playability which is very important, as this aspect can further encourage a struggling beginner to continue pursuing the skill.
Compare these models:
It features a bright tone that also boasts of clarity and smoothness, and most importantly, a great carrying power. The woods used in making this violin are also of high quality. For the top, a transparent varnish highlights the solid tight-grain spruce that is used, and for the back and sides, an exquisite flamed maple is used.
For an added effect, the varnish is lightly shaded to make the instrument appear fine and old. The fittings are made of Swiss-style ebony that includes the fingerboard as well.
For the tailpiece, you will find a composite with four fine tuners. Other finer details of this aesthetically appealing instrument include edgework and purfling that are artistically made with a beautifully cut scroll.
The stock strings are D'Addario Prelude and the bow included in the outfit is made of select Brazil wood with genuine horsehair. Other accessories that are offered by this outfit are: hardshell case and care products for violin maintenance.
Verdict
Of the three, the Stentor 1500 is the best choice since it can be used by beginners as well as intermediate players. With this factor considered, you will be investing in a piece that will save you money in the long run. Aside from that, the outfit also offers a lot of useful accessories that will come handy.
---
Top Accessories: