Does the Cecilio CVN-300 violin outfit provide good value? Find out in our expert review of this entry level instrument for new violinists.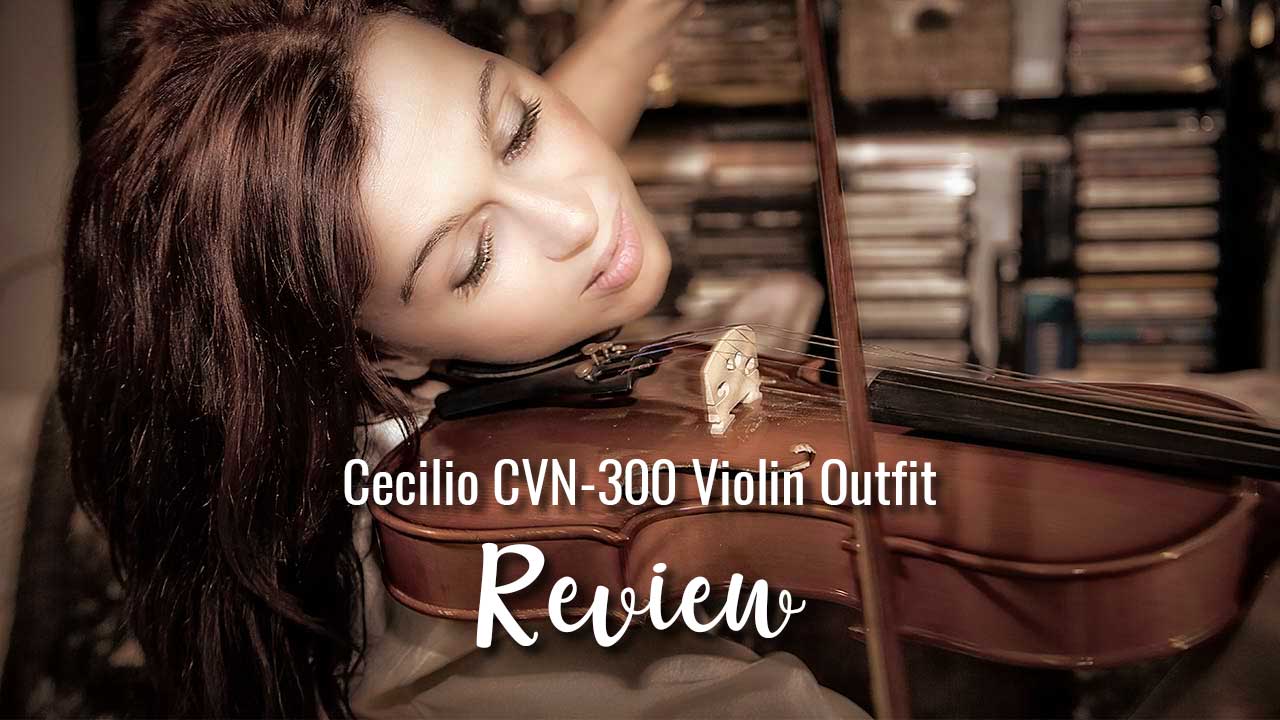 The Cecilio CVN-300 Violin at a Glance:





Cecilio CVN-300 Review – Does It Live Up To The Hype?



The Cecilio brand is among the most popular makers of great, quality violins.
This is a violin known for its warm notes, great for violinists who are just starting out. Cecilio CVN-300 is also an excellent choice if you are on a budget and in need of an affordable violin with a reasonable quality and good sound.
We certainly hope you benefit from the information we provide in this article! Just so you know, we may receive compensation if you use the links on this page. If you do, thank you so much!

CVN-300 Quick Overview
As we started our Cecilio CVN 300 review, we were quickly convinced that it's a great choice for an entry-level violin. It offers a complete outfit with extras included that you may have to purchase separately when you buy other violin brands.
Also, even though the violin is sold at an affordable price, quality materials are still used to ensure that all aspects of the violin are of good quality.
It is also a versatile violin that you can easily use as a student starting out with the instrument and when you start progressing, the Cecilio CVN-300 Solidwood Violin will grow with you and you can use it as it with little or no upgrading needed.




Features of the CVN-300 Outfit
Over time, the Cecilio CVN-300 violin has continually enjoyed strong customer reviews. A testament to the great features and price point that hits the sweet spot for any new violinist:
Product dimension: 32" x 12" x 5"
Product weight: 5 pounds
Size: 4/4 (full size)
1/8 orchestra-style violin featuring inlaid purfling and antique varnishing
Aged maple back—for durability
Aged spruce top—for good sound transmission
Ebony fittings used for the pegs, fingerboard, tailpiece and chinrest for durability to withstand frequent movements
Includes 2 bowsin the package made from Brazil wood, unbleached Mongolian horse hair, and a spare bridge
Features 4 fine tuners that are removable and nickel plated
Comes strung with D'Addario Prelude strings
All the necessary accessories to start playing today
Offers 1-year warranty for manufacturer's defects




How Does the CVN-300 Violin Sound?



Included with the CVN 300:
The Cecilio CVN-300 Outfit comes complete with:
Extra set of strings
Extra bow
Hard shell case with rubber feet
Rosin cake
An adjustable shoulder rest
Electronic tuner
Lesson book




Pros and Cons


Cecilio CVN-300 Violin Outfit Review


What We Like
An ideal violin for beginners as well as more advanced players because it is easy to play and can be used for quite a few years as it is, without having to upgrade it
Cost-effective and affordable
Adequately aged wood ensures that the materials used are well dried and will not unnecessarily warp. It also ensures that the violin will produce a reliable sound quality, and will be durable enough to withstand constant use
The fine tuner provided is easily used for tuning, even by beginners. It is also made of premium-quality nickel to make it durable
Stock strings are made of good quality materials with just the right amount of tension
The hard case provided ensures that the violin is easy to transport and also safe when carried around
Includes an extra bow and bridge in case the one you are using gets broken


What We Don't Like
According to a few people who used this product, it does not handle heat changes very well and can be easily broken
Needs to be tuned often
Some had their strings easily snap
Great for beginners, but for more advanced players, you may have to look for a better quality violin






Alternative Choices to the Cecilio CVN-300
For new violinists, another affordable option for a violin beginner outfit is the ADM Full Size Handmade Acoustic Violin. Carrying the traditional red-brown gloss, this violin is made of seasoned valued woods for great quality sound and an elegant F hole for great resonance.
The ADM Violin Outfit features a hand carved solid spruce top, seasoned maple sides and back with hand-inlayed purfling. The violin also features integrated fine tuners and a spare set of strings.
It includes high-quality rosin cake, a lightweight shaped foam carrying case made of luggage-grade nylon for the outer covering. The interior has plush padding plus the case comes with a convenient shoulder strap for easily transporting.
Other inclusions with this violin are an electronic tuner, a Brazilwood violin bow with unbleached Mongolian horse hair, ebony pegs and chin rest, a polishing cloth plus much more. For more information on the ADM violin, read our full review here.

Compare featured violin outfits:
Another higher-end choice is the Mendini 4/4 MV500 + 92D violin, a great choice for a quality violin with an affordable price tag. It produces medium quality tones with a nice pitch.
The Mendini MV500 violin features ebony-made fittings such as the fingerboard, chin rest, pegs and tailpiece, and four removable fine tuners. Read our complete Mendini MV500 review here.
A superior feature of this violin is that it is handcrafted from a single piece of wood to minimize errors during construction. It also has a classy and elegant look to it from the glossy finish usually seen in violins used in orchestras.
This model of factory made instruments by Cecilio is a little bit more expensive compared to the usual price range entry-level violins, but with the quality of its make and considering that you can still use this violin, even when you progress to a more advanced level, the increased price point is understandable.



Final Verdict: As An Extremely Popular Violin, Is The Cecilio CVN-300 Right For You?
For an affordable violin that does not scrimp on quality, the Cecilio CVN-300 Solidwood Violin is a popular choice for a best student violin.
It sounds great and the inclusions provided by the outfit are not only many, but also made of quality materials. Plus, it provides a hard case which makes your violin secure when you transport it.



Read the Most Current Cecilio CVN-300 Reviews! >>

Build Quality

Sound Quality

Value Factor
---
Manufacturer Info:
Website: http://www.ceciliomusic.com/catalog/
About: Teacher approved Cecilio CVN-300 orchestra violin is perfect for beginner to intermediate violinist.
---
Top Violin Accessories: