In this review, we determine if the Ricard Bunnel G1 Violin Outfit really is perfect for a budding musician who wants to jump right in and start playing.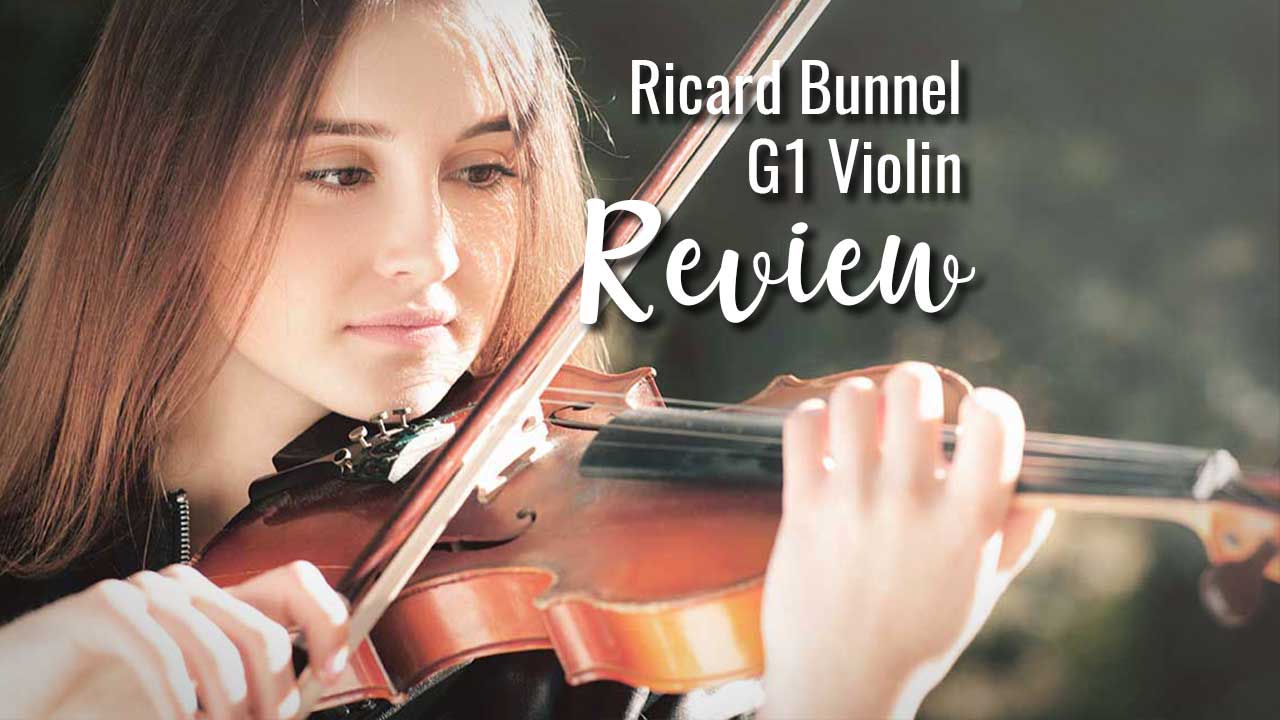 The Bunnel G1 Violin Outfit at a Glance:



Ricard Bunnel G! Violin Outfit

Bunnel G1 Violin Outfit Review – Is it Worth the Investment?
If you are looking for a violin for someone who is in the beginner to intermediate stages of their music training, the Ricard Bunnel G1 Violin Outfit is perfect. It comes with everything that a budding musician needs to jump right in and start playing.
Kennedy Violins claims to have the best instruments on the market, so you may be wondering why the price is so reasonable.
Kennedy Violins purchases their products directly from the manufacturer. This means that they are able to cut out the middle man, keeping their costs low, and deliver savings to you, the customer.
We certainly hope you benefit from the information we provide in this article! Just so you know, we may receive compensation if you use the links on this page. If you do, thank you so much!

Features of the Ricard Bunnel G1 Violin
Crafted by hand, the Ricard Bunnel G1 Violin from Kennedy Violins has pure ebony fittings with an oil finish. If you are looking for a bundle that packs a punch, without punching a huge hole in your wallet, this bundle is definitely an option to consider.



This is a great violin bundle for beginner to intermediate students, with everything you need to begin playing as soon as you take it out of the box, including:
Genuine Brazilwood bow
Rosin
Case
Shoulder rest
Equipped with D'Addario Prelude Strings
Additional set of Portland Strings
Tuner
"Intro to Violin" book



This violin features solid, carved maple and spruce tone woods, with a hand-carved French Aubert maple bridge that is custom-fitted. The D'Addario Prelude strings come already installed, so all your budding musician needs to do is tune it up and it is ready to play.



Read What Ricard Bunnel Customers are Saying >>

Kennedy guarantees superior sound quality, better than what you would find in other violins at this price. Some of the best features include:
All Kennedy Violins are backed by a lifetime guarantee warranty with full coverage if there are any issues that are related to manufacturer defects.
Purchased directly from the manufacturer, all of the final stages of assembly of Kennedy violins, including the Ricard Bunnel G1, are assembled by Kennedy's own violin experts in United states, right in the State of Washington.
The maple and spruce tone woods give this violin a natural and realistic sound, making it easier for students to learn and play.
The violin body is oiled carefully to ensure that it will not only have a gorgeous finish, but that it will also be durable.
Everything your budding musician needs is included, so they can open up the box, tune their instrument, and begin learning and practicing immediately.



The Ideal Student Violin Package
This is the ideal first violin for beginning students, and the great sound quality also makes it a good choice for intermediate students who have been playing for a couple of years.
This is a wonderful student violin, with plenty of features that can help leaners improve on their skills and master their technique before moving on to a more expensive model.
This actually one of the highest-rated violins on Amazon, as well as the most popular student violin from Kennedy, for good reason.
Not only is this quality instrument backed by a lifetime warranty, there is also a 45-day money-back guarantee for your peace of mind should there be a problem with this instrument (which isn't likely).

Easy to Tune and Play
This violin features a customized, fixed France Aubert link, with the size being perfectly modified for playability. The tuning pegs are simple to turn, so even a child can easily tune the Ricard Bunnel G1 without any assistance. A pre-rosined bow is included, as well as extra rosin.


Pros and Cons


Ricard Bunnel G1 Violin Outfit Review


What We Like
Lifetime warranty
Ebony fingerboard and fittings
Oil-based finished, hand-rubbed, without the use of thick lacquer
Extra strings, tuner, and other accessories included


What We Don't Like
Not ready to play (needs to be tuned)
Doesn't always hold a tune
Muffled sound on some strings
Heavy, so not the best for younger children






While the manufacturer does claim that this violin is ready to use, any tuned instrument can be knocked out of tune during the shipping process.
Tuning can be difficult for beginners, but since this bundle comes with a clip-on tuner, that shouldn't be a problem. Even a beginner can easily tune a violin with the tuner, and start playing right away.

Compare Featured Violin Models:

Conclusion: Is the Ricard Bunnel G1 Violin a Good Deal?
If you have a child who is interested in learning how to play the violin, or has recently started taking lessons, and they need a decent violin to practice on, the Ricard Bunnel G1 from Kennedy Violins really is one of our preferred choices for them to start out on.
With it's rich, natural tones, the bundle comes with everything they need to start playing now!



What Do Bunnel G1 Violin Outfit Customers Think? >>

Build Quality

Sound Quality

Value Factor

---
Top Rated Accessories!