Latest Violin Reviews and Articles
Choosing The Best Violin: Quick Links

Violin as a musical instrument
An enchanting instrument that has been around for literally centuries, the violin has an incredibly rich history. Classical greats such as Strauss, Vivaldi, Paganini and many more laid the foundations for modern masters. Popular cutting edge artists such as Lindsey Stirling are taking the instrument into previously uncharted territory thereby reaching a whole new audience. There would seem to be no end to the creation of beautiful music that comes from the violin.
A violin is a wooden stringed musical instrument which has four strings. It is a hollow, wooden box that has a protruding neck at the top. Although it is mostly made of wood, different kinds are used to make the whole violin. For the front body, the bass bar and the sound post, spruce is used as it lightweight but strong.
A harder wood like maple is used for the neck, ribs, pegbox, back, and the scroll. Another type of wood, ebony, known to be dense and very hard, is used for the parts where stress is frequent. This is used in making the fingerboard, pegs, tailpiece and end button.
The violin belongs to the string family which includes the cello, viola, and the bass - sometimes called "the doghouse" by some performers. Among its members, the violin is the smallest and the most high pitched. In an orchestra, the violin is commonly used to convey the melody because of its carrying sound. Aside from the orchestra, different musical genres also use the violin. Folk music, jazz, Western classical tradition, and country music are just some of the genres that you can hear the violin being played.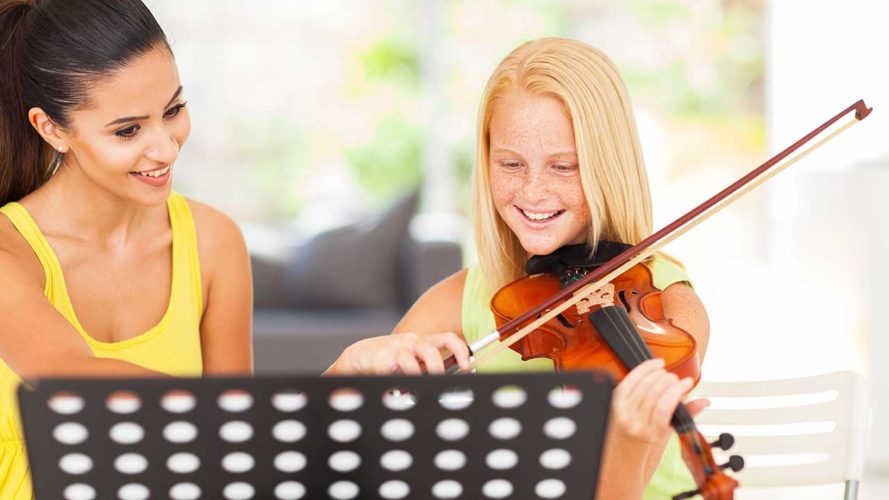 Quality and price range
Quality intermediate violins are usually priced around $500. For professional types, violins can start as high as $3,000. For beginners, it would be best to bring your teacher along with you or a violinist friend when choosing one. Having someone with experienced ears will help you decide which ones are low-quality violins, and which ones are good. Also, don't inform the dealer of your budget; this way, you will avoid having the prices marked up if no tag is displayed.

Set your budget
Start by setting a budget based on how you will use the violin. Will you use it as a hobby or as a means for your future career? Do your research and look for options that you would want for your violin. When choosing within your budget, don't change your price range just because the shop you are looking into does not have one that fits your price range. Don't let yourself be pressured to buy; take your time and check out other shops to find the best violin for your budget.
Make a smart decision, learn more about the various features of the best beginner violins:


Playing the violin
Using your right hand, the violin is played by drawing a bow at correct angles across a string causing it to vibrate. By choosing the string that comes in contact with the bow, pitch is controlled, while the length of the sound is regulated by pressing that string down onto the fingerboard with one of the fingers on your left hand. You can also pluck the strings to make a sound, this method is called as pizzicato.


Of course, to fully enjoy this beautiful instrument, there's much much more you can learn about how to play a violin:​


Try it
When you see a violin that you like, try playing it first and try playing other violins as well. Some dealers may also lend you the violin for up to two weeks so you can try it at home where you can practice comfortably with it. You can also bring it to your teacher to have it checked out as well before you decide to purchase it or not.

Beginner vs professional
If you are buying a beginner or a student's violin, it is recommended to buy it online where it costs less compared to buying one in a violin shop. These types of violins are usually made by a machine using lesser quality wood and a spray-on finish. For a professional violin, visit a reputable shop. High-quality violins are commonly carved by hand using premium-quality wood that has been aged and set up by a professional luthier (stringed instrument maker).

Test the sound from afar
Bringing a violinist friend will also let you test the sound of the instrument from afar. Have your friend play, and listen from afar, as some violins sound great under your ear but do not project well from a distance.
---

Buying vs renting
If you are buying for a child not big enough to own a full-sized violin, renting one is the best option. Buying a small-sized violin can be expensive since you may have to change it often as your child grows. Also, smaller sizes may not be as high-quality as full-sized violins. In general, buying a violin is a more cost-effective option in the long run as renting one will usually cost you the same if you're going to use it for a long time.

Compare Violins:

---
Cecilio CVN-300 Solidwood Ebony Fitted Violin with D'Addario Prelude Strings, Size 4/4 (Full Size)
The Cecilio CVN-300 is a beautiful handcrafted wooden instrument that produces great sound and a tone that is described as warm and pleasing to the ears. It is a great set for students and other beginners because of its affordability and the completeness of the outfit provided which makes it a reliable and great choice when you are looking for quality and affordability.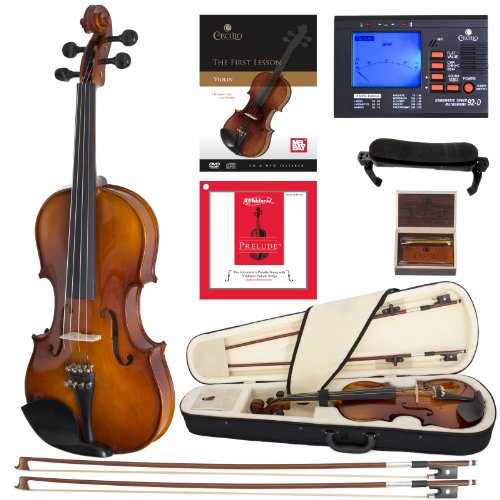 Features of the Cecilio CVN-300
It measures 32" x 12" x 5" and weighs approximately 5 lbs.
Full size (4/4)
Features hand carved top made of solid and aged spruce, for the sides and back part, aged maple is used
Ebony fittings (chin rest, fingerboard, pegs, tailpiece)
Includes 2 Brazilian wood bows with unbleached Mongolian horsehair and a hard case outer shell to keep your instrument properly secured
Stock strings are D'Addario Prelude strings
Other accessories included in the outfit: CD/DVD tutorial/lesson book, shoulder rest, rosin cake, 2 extra bridges, spare set of strings and a tuner
With 1-year warranty for manufacturer's defects
Pros
Affordable
Great sound
Easy to use
Hard casing makes the transport easier and safer to do
The package inclusions are plenty, useful and cost-effective, especially for beginners who are on a budget as they don't need to purchase accessories separately
Materials used are aged accordingly to prevent the wood from warping as well as ensure that the sound quality is reliable
Cons
A few people had their violins broken easily, like strings snapping, wood warping, etc.
Useful for beginners but not so much when you are an advanced player
Conclusion
The Cecilio CVN-300 is an affordable and reliable beginner's violin. It is made of quality materials to ensure that each piece is durable and will last you a few years. The violin, and the inclusions the package offers, are also great bonuses because they have undergone the right process to maintain quality even with the affordable price point.




Mendini 4/4 MV500+92D Flamed 1-Piece Back Solid Wood Violin
The Mendini 4/4 MV500+92D Flamed Violin is among Cecilio's factory-made instruments that combine affordability and quality. This instrument is known to produce medium-quality tones, which are great for beginners. Although factory made, Mendini instruments are also handcrafted and tested for quality control by skilled technicians before they are shipped.
Features of the Mendini 4/4 MV500+92D Flamed Violin
Measures 32" x 6" x 13" and weighs approximately 5 pounds
Violin is full size, 4/4
Top: Made from solid hand-carved spruce
Back and sides are made from one piece of maple wood with flamed design
Has inlaid purfling and finished with a glossy varnish
Features ebony fingerboard, pegs, chin rest, and tailpiece with 4 built-in fine tuners that can be detached if needed
Other inclusions: lightweight hard case, 2 Brazil wood violin bows using unbleached horsehair, 2 bridges, adjustable shoulder rest, rosin cake and a spare set of violin strings
With 1-year warranty for manufacturer's defects
Pros
Because the violin is handcrafted from a single piece of wood, construction is precise and errors are less likely to happen
Classy look is achieved from the glossy finish
Great sound quality and depth are produced
Affordable price
The package inclusions are plenty and very useful especially the hard case because it secures the violin and you won't have the need to worry about carrying your violin around
For most people who have reviewed the product, the violin holds its tune very well and does not require frequent tuning unlike other violins with the same price point
Cons
A few people had issues with the weight of the bow being incorrect thus affecting how they played the instrument with a heavy hand
Some of the extra accessories included in the outfit has the tendency to break or easily get damaged
A few instances of strings easily snapping were also noted by some people who reviewed this violin
Conclusion
For a factory-made violin, the Mendini 4/4 MV500+92D Flamed Violin is a great choice to consider for good quality beginner's violin that produces great mid-level tone quality without the high price tag. It is also durable and can hold up from constant use as you practice to become more skilled in playing the violin.




ADM 4/4 Full Size Handmade Wooden Acoustic Violin Outfit
As a beginner, if affordability is one of the top considerations that you look for in choosing a violin, then the ADM Full Size Handmade Wooden Acoustic Violin Outfit is suitable for you. Not only is it considered the least expensive violin available online, it also sounds remarkable and is beautifully crafted. ADM stands for All Days Music, a professional supplier of musical instruments known for their quality beginner violins that are offered at a low price.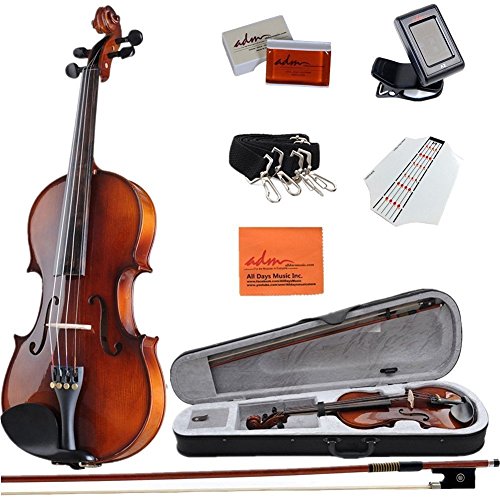 Features of the ADM 4/4 Full Size Handmade Wooden Acoustic Violin Outfit
Solid wood violin. For the body of this violin, hand-carved tone woods were used with the addition of inlaid purfling so the instrument can withstand the stress of continued dailyuse
Produces pure and decent sounds
Ebonized solid hard wood. For the fittings, blackened solid hard wood is used to mimic the appearance of genuine ebony fittings. This applies to the fingerboard, chin rest, and pegs
The top part of the violin is made from hand carved solid spruce while the back and sides are hand carved from maple
For the tail piece, alloy is used with 4 built-in fine tuners
Other accessories in the outfit include: shoulder straps, a shaped foam casing, Brazilian wood bow with horsehair, rosin and digital tuner
Measures 32.3" x 10.6" x 5.9" inches and weighs approximately 6.4 ounces
Pros
Inexpensive beginner's instrument
Beautiful design
Easy to use; even children can learn the basics in playing the violin when using this instrument
The digital tuner makes tuning hassle free
Can be easily assembled
Cons
The blackened fittings have the tendency to rub the blackness off onto your hands the more you use the violin, since they are not real ebony, just painted wood
According to some who used this product, the strings require frequent tuning as it easily gets off-tune
Conclusion
The ADM 4/4 Full Size Handmade Wooden Acoustic Violin Outfit with Hard Case, Beginner Pack for Student is suitable if you have very limited budget or you are buying an instrument for a child. Although the quality is great, this instrument is more commonly considered a violin-shaped object (VSO) which, according to reviews, may not be as good in sound as a real one.




Cecilio CVN-500 Solidwood Ebony Fitted Violin with D'Addario Prelude Strings
The Cecilio CVN-500 violin is a step up from the usual beginner's violin. Aside from being constructed using high quality materials, this model can also be used by more advanced players looking for an affordable violin that is able to produce a reliable sound. This violin also offers a great package that has all the important extras you need for your violin outfit.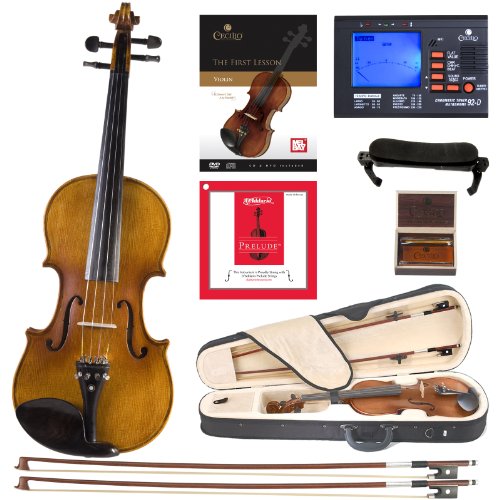 Features of the Cecilio CVN-500 Violin
Measures 32" x 12" x 5" and weighs approximately 5 pounds
Violin size: 4/4 (full size)
Top: Made from hand-carved solid spruce top
Sides and bottom are made from a single hand-carved maple wood with a flamed design for an added effect
Finished with a satin antique varnish
Fittings like the fingerboard, chin rest, tailpiece and pegs are made of ebony
Has inlaid purfling
Features 4 built-in nickel plated adjusters located at the tailpiece
Stock string set used are D'Addario Prelude strings
Outfit inclusions: form fitting hard shell casing, includes 2 violin bows made from Brazilian wood and genuine horsehair, shoulder straps that are easily adjustable, chromatic tuner with metronome, 2 bridges, lesson, rosin cake
It also offers a 1-year manufacturer's warranty if ever you find defects that are caused by the manufacturer
Pros
Easy to use and playability is great
Lightweight hard shell casing not only secures the violin inside but also makes it easier for you to carry the instrument around wherever you need it without having to worry about damaging the violin
Affordable violin that does not scrimp on quality as premium materials are used in the construction of the bike
Can be adjusted or easilyupgraded
Durable and being well made, you are assured that this violin will last for quite a few years withstanding frequent usage
Cost-effective. Complete accessories are provided so you won't have to buy the other items including the spares provided for parts that can easily be broken
Cons
Some people who used this product were not satisfied with the somewhat small sound that the violin produces
The instrument is also reviewed as having less resonance compared to other violins
According to a few people who reviewed this product, some of the accessories included in the outfit are not durable
The strings can be quite difficult to press down for some customers as the strings were placed high at the nut.
Conclusion
The Cecilio CVN-500 is a great option for a first violin or second one. It will not cost you much and you can still use it after you have gone past the beginner's stage. Reviews for this instrument are positive, and for the negative ones, most issues can be resolved easily.




Stentor 1500 4/4 Violin
Teachers highly recommend this versatile violin for students who are looking for their very first violin because the Stentor 1500 4/4 violin is best known for its reliable sound and budget-friendly price. This violin features a responsive sound with a good tone, thus you are sure that what you pay for is worth it with regards to the violin's overall performance.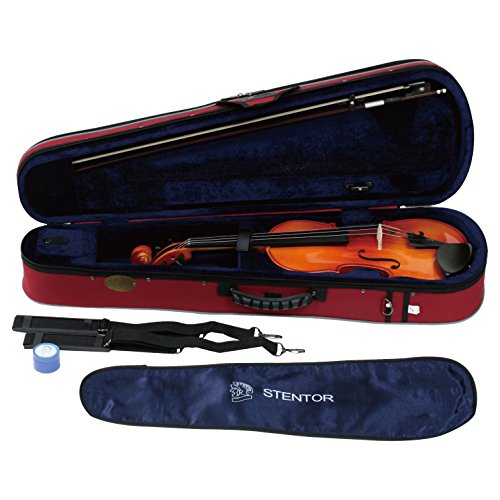 Features of the Stentor 1500 4/4 Violin
The violin has a measurement of 6.2" x 31.5" x 11" with an approximate weight of 4.4 pounds.
Spruce is used for the top part of the violin, while maple is used to construct the bottom, ribs and neck of the violin
Features a gold brown varnish for the finishing
Fittings are made from ebony (fingerboard, pegs) while a composite is used for the tailpiece
4 nickel-plated fine tuners are built into the composite tailpiece
The outfit includes a violin bow with horsehair, violin case with interior wraps and pockets for accessories, as well as two holders provided for the bow
Pros
Easy to play
Lightweight
Affordable
Produces reliable sound
Looks good
Cost-effective
Uses high quality materials for the construction of the violin
Cons
Some of the fittings are not very durable considering that they are supposed to be made from ebony, which should be able to withstand constant use.
Conclusion
The Stentor 1500 violin is a reliable instrument to invest in for your very first violin. Although the price is a little bit high when compared to other entry-level violins, the construction of this violin is solid, and it is well-made, which means that it will last you quite a while, something that is very practical for beginners. Aside from practical reasons, this model is also known for the quality of its sound, which is also an important aspect to consider when choosing your first violin.